You can't go wrong with chicken, mozzarella, feta, pitas and Tzatziki sauce. That's what these Greek Quesadillas offer. Flavorful and pretty cute, these chicken quesadillas are a perfect food for both family meals and small parties. I'm hosting a gathering of friends this weekend, and plan to treat my guests with these. It's worth waiting for!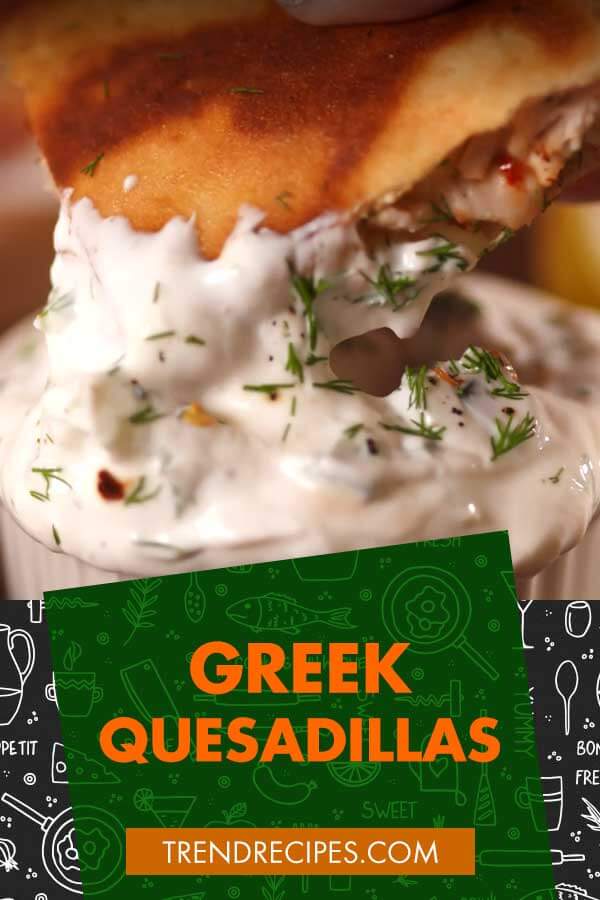 Greek Quesadillas
Course: Dinner, Lunch
Cuisine: Greek, American
Difficulty: Medium
The cooking time of these Greek quesadillas surely amazes you. They're ready in just 25 minutes, so you can make them even when you're short on time.
Ingredients
FOR THE TZATZIKI SAUCE

1/2 cucumber, finely chopped

1 c. Greek yogurt

1 tbsp. chopped dill

Juice of 1/2 a lemon, plus more if desired

pinch of crushed red pepper flakes

kosher salt

Freshly ground black pepper

FOR THE QUESADILLAS

2 c. shredded chicken

4 large pitas, halved

3 c. shredded mozzarella

1 c. crumbled feta

1/2 c. roasted red peppers, drained

1/2 c. coarsely chopped Kalamata olives

1 tbsp. chopped dill

1 tbsp. extra-virgin olive oil
Directions
To Make sauce: Add Greek yogurt, cucumber, dill, and lemon juice to a medium bowl, stir to combined. Season with salt, pepper and red pepper flakes.
Heat olive oil in a large skillet over medium heat. Add one pita half, cut-side up. Top with a handful each of mozzarella and chicken.
Sprinkle with feta, red peppers, olives and dill. Top with matching pita half, cut-side down.
Cook until cheese is melty and bottom pita is golden, about 2 minutes. Carefully flip over and continue to cook for another 2 minutes on the other side.
Repeat with remaining ingredients.
Cut quesadillas into wedges and serve warm with Tzatziki sauce.
Recipe Video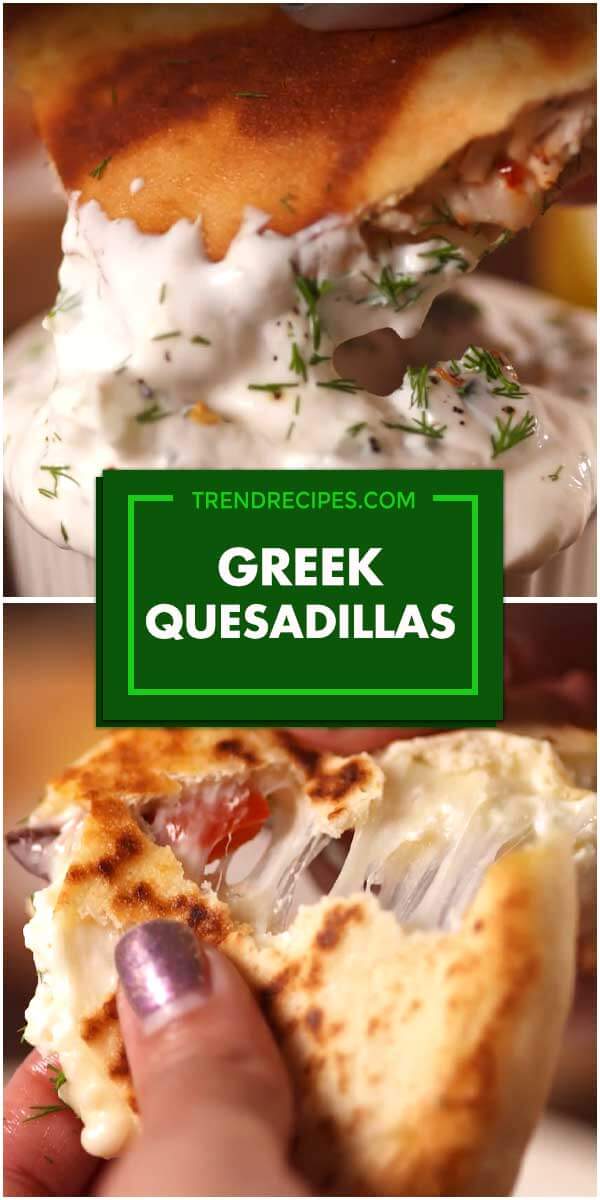 Source: https://www.delish.com/cooking/recipe-ideas/recipes/a54461/greek-quesadillas-recipe/