If you are finding a good recipe for chicken and rice, this Greek Gyro Skillet is right up your street. It's a delicious and flavorful mix of chicken, white rice, zucchini, chicken broth, onion, bell pepper, dried dill, and spices. This chicken is also topped with chopped tomato, cucumber, olives, crumbled feta and fresh dill. Who can resist it? I know that I can't.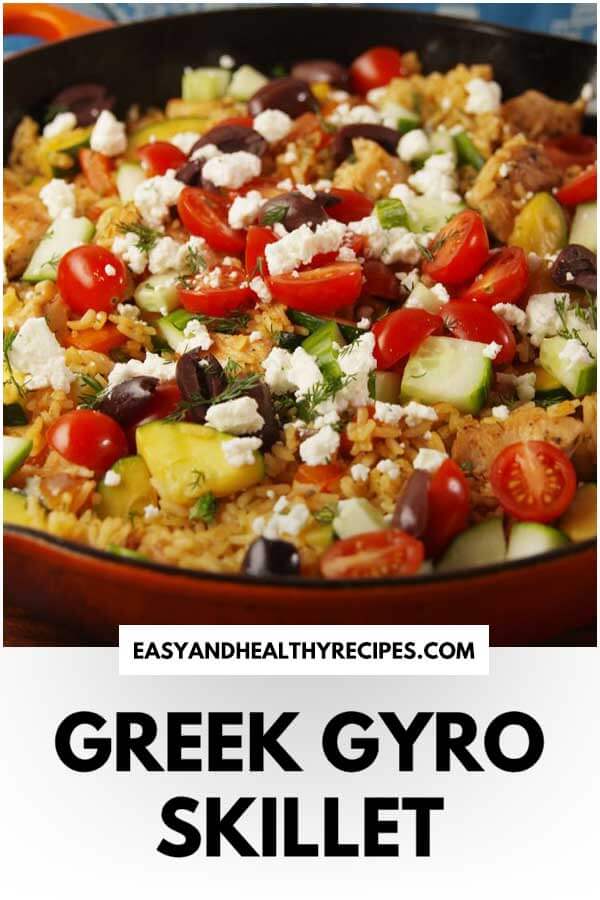 Greek Gyro Skillet
Course: Dinner, Lunch
Cuisine: Greek
Difficulty: Medium
Ready in 50 minutes, this Greek Gyro skillet is great for weekend meals. Get add its recipe to your recipe box and give it a try whenever you have an appetite for.
Ingredients
2 chicken breasts, chopped into bite sized pieces

1 1/2 c. long grain white rice

2 medium zucchini, sliced into rounds

1 red bell pepper, chopped

1/2 c. grape tomatoes, halved

1 medium cucumber, chopped

1/4 c. kalamata olives, halved

1/3 c. crumbled feta

3 c. chicken broth

1 tbsp. fresh dill, chopped

3 garlic cloves, minced, divided

1 tsp. oregano

1/2 red onion, chopped

1/2 tsp. dried dill

1/2 tsp. paprika

kosher salt

Freshly ground black pepper

3 tbsp. olive oil, divided

Juice of 1/2 lemon

Lemon wedges, for serving
Directions
Add chicken, 2 cloves minced garlic, and 1 tsp oregano to a medium bowl, mix to combine. Season with salt and pepper.
Heat oil in a large skillet over medium heat. Sear chicken on all sides until golden, about 8 minutes, and remove from skillet.
Add more oil to pan, if needed. Add onions and peppers, cooking until onions become translucent, about 5 minutes. Add zucchini and cook until tender, about 5 minutes more. Remove vegetables from skillet.
Add one more tablespoon oil skillet. Add in remaining minced garlic clove, dried dill and paprika and cook until fragrant, 1 minute.
Stir in rice, chicken broth and lemon juice and bring to a boil. Return chicken to skillet and mix with rice, cover and cook for 15-20 minutes stirring occasionally, or until rice is tender and most of liquid has been absorbed.
Bring cooked vegetable back to skillet and toss to combine.
Garnish with chopped tomato, cucumber, olives, crumbled feta and fresh dill. Serve with lemon wedges.
Recipe Video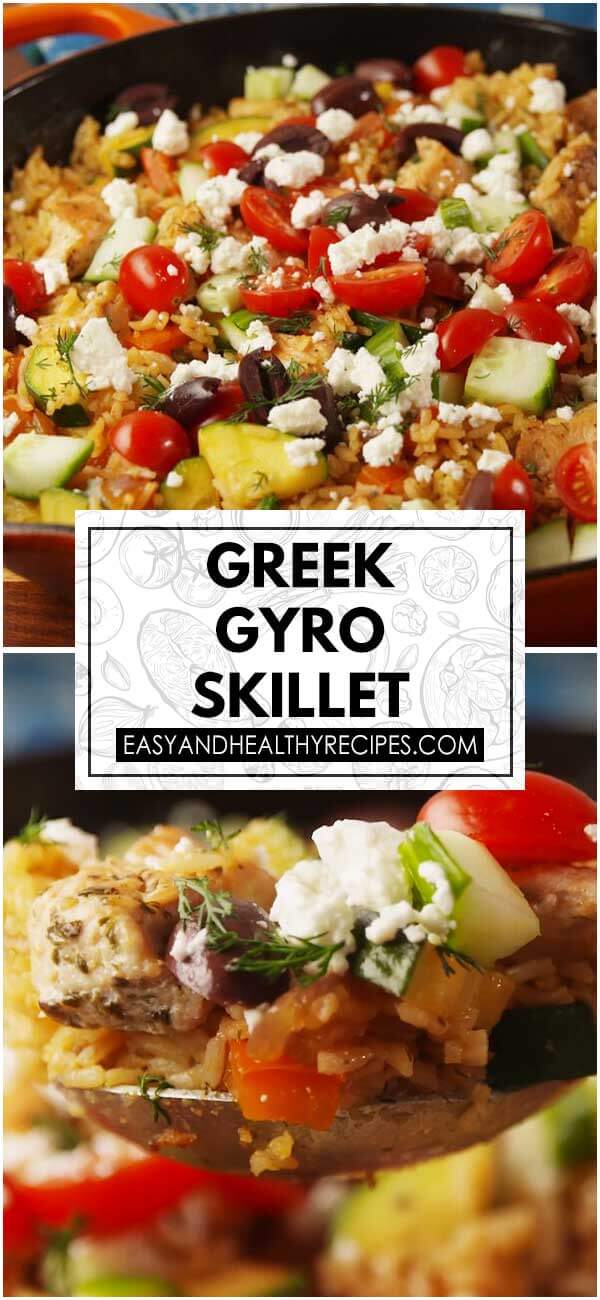 Source: https://www.delish.com/cooking/recipe-ideas/recipes/a56146/greek-gyro-skillet-recipe/