Jalapeno Popper Chicken. It's one of the bestest chicken dishes that I've ever tasted. When I tried it for the first time, my taste buds were mesmerized immediately. It almost melted in my mouth, and then got me hooked. How about my husband and kids? They went crazy for them and added it to the "worth-serving" food list of weekend dinners, gatherings and holidays. Yummy!
My family has craving for chicken. We love to try different meals with chicken. Baked chicken, grilled chicken, crispy fried chicken, roasted chicken, braised chicken, chicken curry, chicken stir fry, chicken salad, chicken casserole, chicken soup are all served at our dinning table. We even eat chicken the whole week without getting bored. Real chicken addicts!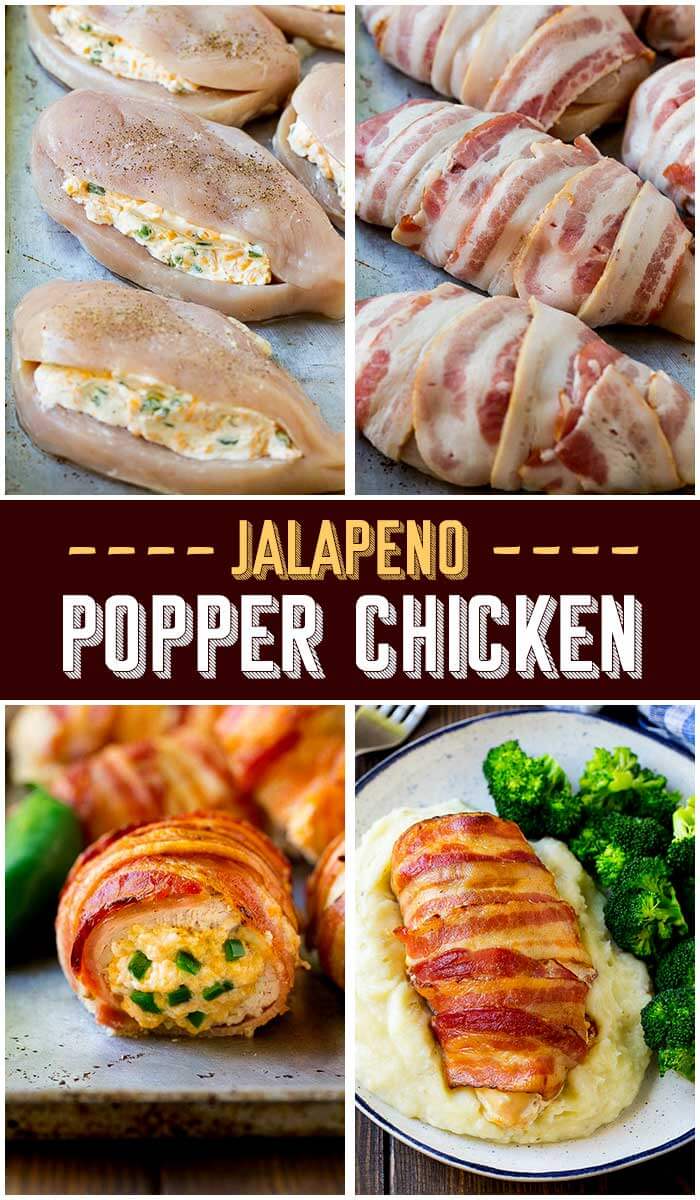 And here, I will let you know why jalapeno popper chicken is incredibly delicious. It is chicken breasts stuffed with a jalapeno cheese mixture, then wrapped in bacon and baked to crispy perfection. The jalapeno cheese mixture that defines this dish includes cream cheese, cheddar cheese, diced fresh jalapenos and seasonings. If you prefer pickled jalapenos to fresh ones, just go for them. The point here is you love them and they fit your taste better, right?
Delicious and super duper impressive, jalapeno popper chicken is a great treat for both family dinners and holidays, Christmas, for instance. Not just that, it's way easier to make than you think. Cut a deep pocket into the side of the chicken breasts (not cut all the way through). Spoon the jalapeno cheese mixture into each chicken breast evenly. Wrap the chicken breast with two slices of bacon. Make sure that the bacon is wrapped tightly so that the filling will hold together in the oven. Bake until the chicken is completely cooked and the bacon is crisp and brown. That all.
If you fall in love with jalapeno poppers as an appetizer, this jalapeno popper chicken is surely get you hooked too. There are two ways to prepare the poppers. One is to remove all the seeds and ribs before slicing. By doing so, the dish is a bit more friendly to the kids. The other is to leave them in when you cut them up. If you love spicy chicken dishes, just go for it.
To turn this chicken into delicious and nutritious meals, you can eat it with mashed potatoes (cauliflower is recommended to low-carb eaters) and boiled or baked vegetables (broccoli, asparagus, mushrooms, green beans…). It's also often served over a salad or in a sandwich. It really depends on you.
Many may get doubt about whether jalapeno popper chicken is friendly to keto and low-carb diets. The answer surely keeps you satisfy. Containing only 2 grams of carbs, this is definitely worth adding to these diets. And you, are you ready to serve it for meals? Let's get started!
Jalapeno Popper Chicken
Course: Main
Cuisine: American
Difficulty: Easy
peno Popper Chicken. It's one of the bestest chicken dishes that I've ever tasted
Ingredients
6 chicken breasts, boneless skinless

1/4 cup diced jalapeno peppers (remove seeds and ribs)

6 ounces cream cheese, softened

1 cup shredded cheddar cheese

1/4 teaspoon garlic powder

salt and pepper to taste

12 slices bacon (do not use thick cut bacon)

cooking spray
Directions
Preheat the oven to 375 degrees F. Coat a sheet pan with cooking spray.
In a bowl, combine cream cheese, cheddar cheese, jalapenos and garlic powder; stir well.
Cut a deep pocket into each chicken breast, not all the way through to the other side.
Spoon the cheese mixture evenly into the pocket of the chicken breasts.
Season the outside of the chicken breasts with salt and pepper to taste.
Wrap each chicken breast tightly with two slices of bacon and place them on the sheet pan.
Bake in the preheated oven for 30 minutes, or until chicken is cooked through and bacon is crisp. You can broil the chicken for 3-4 minutes to crisp up the bacon if needed.
Remove from the oven. Let it rest for 5 minutes. Slice and serve.