This Tres Leches Cake has been a beloved "stapler" for dessert at family weekend gathering for years. When I have my own my family and my kids, I still love tasting and making this cake at home. A perfectly sweet and tangy cake batter baked until done, poked holes all over the top, filled (holes) with condensed milk, evaporated milk, milk, and vanilla mixture, then covered with fluffy heavy cream and sugar mix. To best serve, you can serve it with fresh fruits of your choice.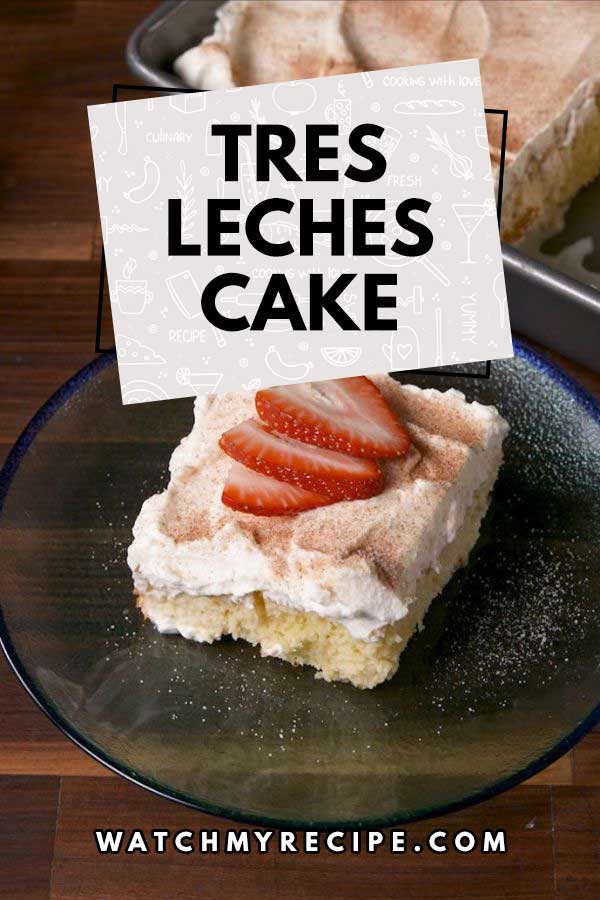 Tres Leches Cake
Course: Dessert, Snacks
Cuisine: American
Difficulty: Easy
Weekend is coming. Why don't you serve this Tres Leches cake at weekend meals? Your kids would love it so much.
Ingredients
FOR CAKE

1 1/2 c. all-purpose flour

1 1/2 tsp. baking powder

1/2 tsp. kosher salt

5 large eggs, separated

1 1/4 c. granulated sugar, divided

1 tsp. pure vanilla extract

1/2 c. milk

1/4 c. melted butter, cooled

Cooking spray

FOR FILLING

1 (14-oz.) can sweetened condensed milk

1 (12-oz.) can evaporated milk

1/2 c. milk

1 tsp. pure vanilla extract

FOR WHIPPED CREAM

2 c. heavy cream

1/2 c. sugar

FOR SERVING

1/4 c. cinnamon-sugar

sliced strawberries, for serving
Directions
To make cake: Preheat oven to 350° F and spray a 9″-x-13″ baking pan with cooking spray.
In a large bowl, add flour, baking powder, and salt, whisk to combine.
In another large bowl, beat together egg yolks and 1 cup of sugar until stiff ribbons trail behind beaters, using a hand mixer. Beat in vanilla and set aside.
In a third large bowl, beat egg whites until soft peaks form; using a hand mixer. Gradually add in remaining 1/4 cup sugar and continue beating until stiff peaks form.
Add yolk mixture to dry ingredients and beat together. Add in milk and melted butter and beat until combined. Gently fold in egg whites until just combined.
Transfer batter onto prepared pan and bake until an inserted toothpick at the center comes out clean, 30 minutes. Let cool.
To make filling: In a medium bowl whisk together sweetened condensed milk, evaporated milk, milk, and vanilla.
Poke holes all over cake, using a fork, then pour milk mixture evenly over cake. Cover and place in refrigerator until all of mixture is absorbed, at least 1 hour.
To make whipped cream: In a large bowl using a hand mixer, beat together heavy cream and sugar until stiff peaks form.
Frost cake with whipped cream and sprinkle with cinnamon-sugar. Serve with strawberries or other fresh fruit.
Recipe Video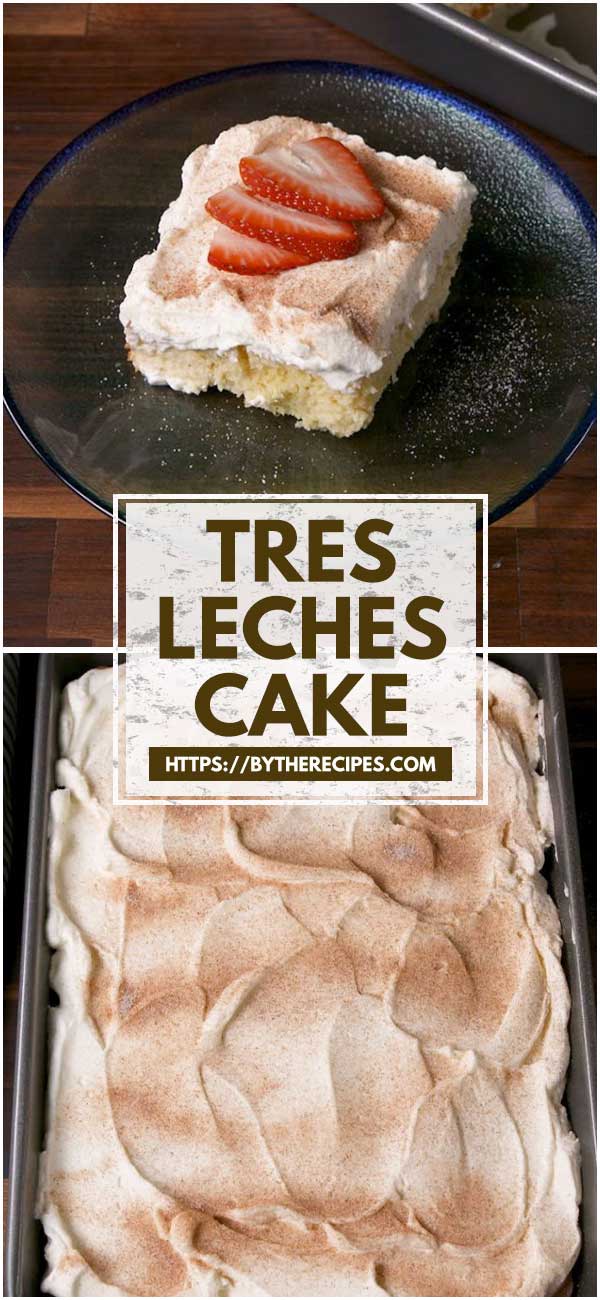 Source: https://www.delish.com/cooking/recipe-ideas/recipes/a58567/easy-tres-leches-cake-recipe/