Christmas is knocking our doors! I can feel Christmas atmosphere at every corner of the street. Christmas decorations are on. Christmas songs are played at almost all stores. When I dropped by a Starbuck store to get a Cappuccino on the way to work yesterday, I saw the staff excitedly decorating the Christmas tree while turning on a popular Christmas song. That moment really touched me. It's time for my family to gather and share the enjoyment together.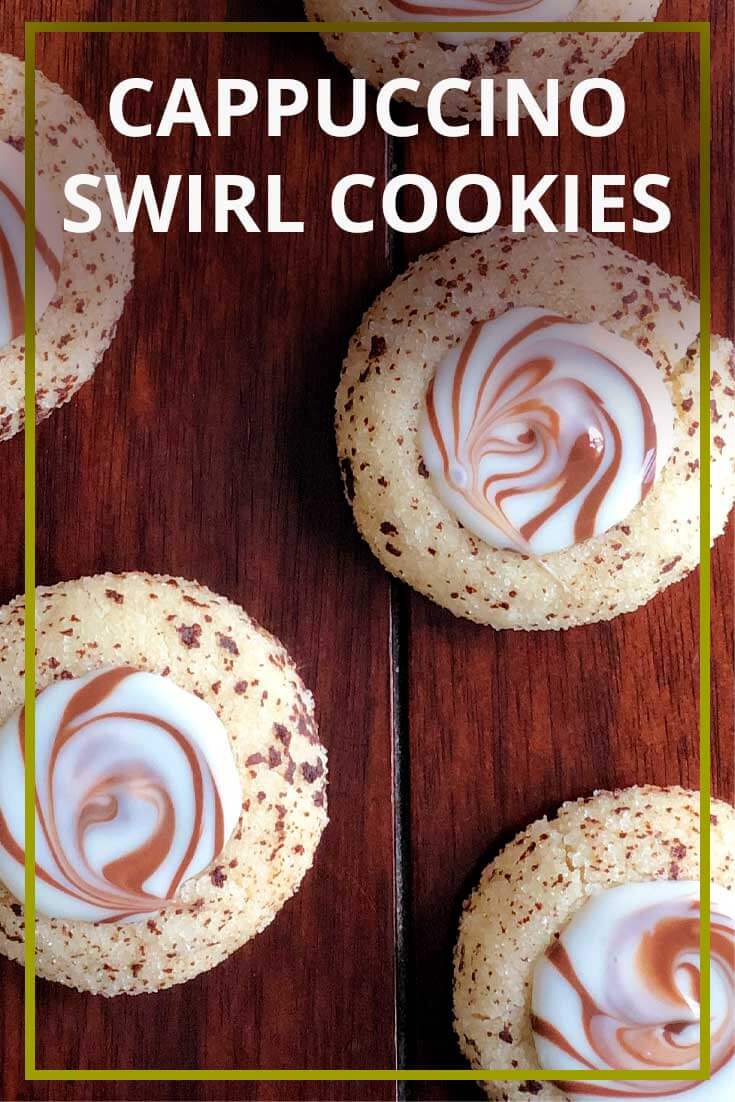 And, to warm up our heart during this holiday, let's make something good and super duper impressive! Cappuccino swirl cookies. Yep, these coffee flavored cookies are one of the "must-serve" foods of my family at Christmas. My kids actually craved them after trying and my husband also gave them an absolute yes even though he is not much fond of sweet food. When I served these to our guests last Christmas, they also fell for them. Such a great compliment to my baking!!!
Let's me tell more about why these cappuccino swirl cookies are much preferred by my whole family. First, they're a crazy good mix of butter flavored shortening, white sugar, baking powder, salt, egg, Baileys coffee creamer vanilla extract, flour, instant coffee, and Hershey's hugs. So, these are loaded with taste and flavor. For those who are coffee addicts, these are right up their street. The other is that it features a hint of Irish cream which pairs perfectly with the gorgeous little chocolate swirled topper. Yummy!
Imagining you stay away from work (and study) in the evening and sip a cup of coffee with some cappuccino swirl cookies served alongside. Then, life would be easier and lovelier, right? For the kids, you may treat them with a glass of hot cholate. I did this with my kids too, and they loved it so much.
Although these cookies are recommended for Christmas, it's great to make any time of the year. The point here is when you have an appetite for and how much you love them. Thanksgiving, weekend gatherings, game day celebrations, picnics,… they deal well with all. If you want them for snack, just go for them. A homemade food is surely healthier than packed food bought at store.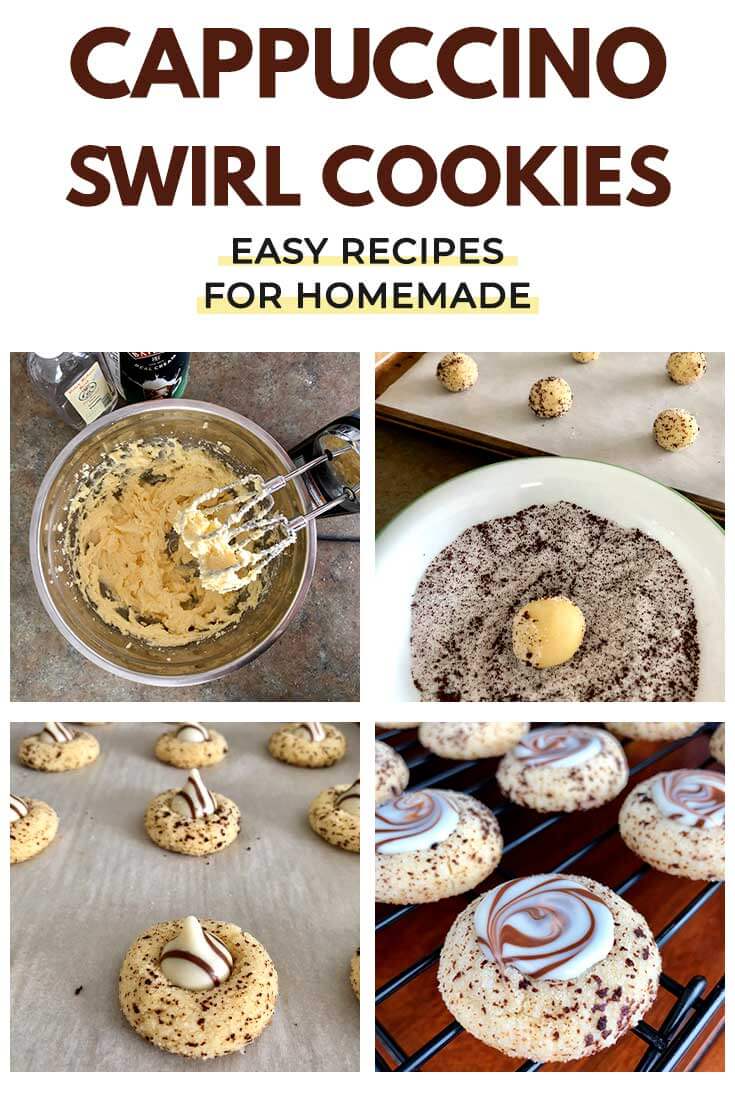 As a baking lover and a fan of cookies, I often try different types at my kitchen. Lemon cookies, chocolate chip cookies, oatmeal cookies, coconut cookies, peanut butter cookies, peach cookies,…are served to our family. When it comes to cappuccino swirl cookies, my family really get hooked. Delicious and eye-catching, these surely satisfy the taste buds of all. And you, why don't you give these a try right?
Cappuccino Swirl Cookies
Course: Dessert
Cuisine: American
Difficulty: Medium
Ingredients
2-1/4 cups all-purpose flour

1 cup butter-flavor shortening

1 egg

1 Tablespoon coffee-flavor liqueur (or coffee flavored creamer or milk)

2 Tablespoons instant coffee crystals

1-1/2 cups sugar

1 teaspoon baking powder

1/4 teaspoon salt

1 teaspoon vanilla extract

48 Hershey's hugs (chocolate kisses with stripes)
Directions
Preheat the oven to 350°F.
In a large bowl, add in shortening and beat with a hand mixer on medium speed for 30 seconds. Pour in one cup of sugar, baking powder and salt; mix until light and fluffy.
Beat in egg, coffee flavored liqueur (or milk or coffee flavored creamer) and vanilla and mix until well combined.
Add in flour (a cup at a time with) and beat with a hand mixer. Knead the dough in remaining 1/4 cup by hand. Cover the dough with plastic wrap and keep in the fridge for one hour or until firm.
Once the dough is firm, remove from the fridge and shape into 1-inch balls.
In a small bowl, add in 1/2 cup of sugar and 2 tablespoons of instant coffee; combine well. Lightly roll each ball into the sugar mixture.
Place balls (2 inches apart) on a cookie sheet lined with parchment. Bake in preheated oven for 9-11 minutes or until the cookie tops start to crack and the sides are almost set.
Remove from the oven and immediately press a Hershey's hug into the center of each cookie.
Let cookies sit for about 5 minutes to allow the Hershey's hug to melt. Using the tip of a knife (of the back of a spoon) slowly run your utensil through the melted hug to swirl. Cool completely on wire baking racks.