Million Dollar Tortilla Roll Ups
It's the bestever party appetizer I have ever tasted! Million Dollar Tortilla Roll Ups! I tried the first slice and omg, it actually melted in my mouth. It satisfies my taste buds, then, builds up my appetite for meal. This would be the most important thing that any appetizer can do, right?
I comes to these creamy tortilla roll ups by chance. I was invited to the weekend gathering by my friend last two months. She treated us these to get the meal started in the right direction. Well, it happened in an amazing way. These rolls got us hooked right away. As a chef of home and a food lover, I asked her for the detailed recipe to try it at my kitchen.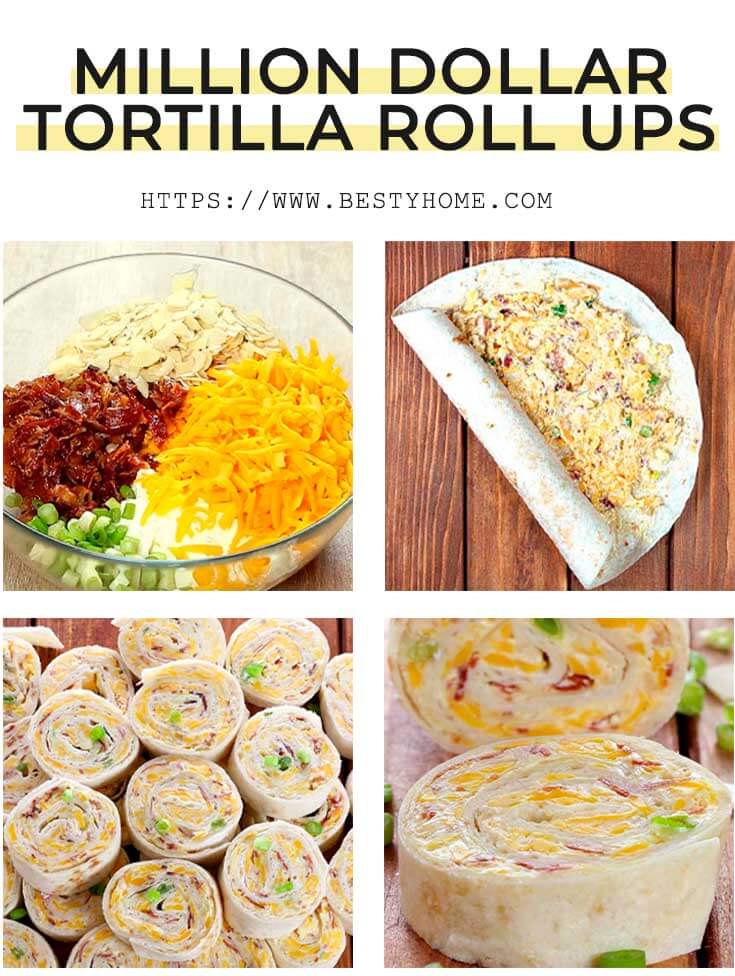 And, I turn it into our homemade food last weekend. It's super duper impressive but are WAY much easier to make than you think. Lay a tortilla out on a plate and spread an even layer of the almond, bacon and cheese mixture all the way to the edges. Then, roll up tortilla tightly, place on a plate and chill in the fridge for 2 hours. That's all you need to do. Any of you can do an excellent job with it even when you're not good at cooking. Easy!
Can you guess how these million dollar tortilla roll ups become when removed from the fridge? They are packed with taste, flavor and texture. They even satisfy the taste buds of my picky kids, and is then added to the "most-preferred" food list of my family. Yummy!
If you are hosting a game day viewing party or weekend gathering, just give these rolls a try. They surely feed a hungry crowd and make them fall in love with. For warm days of spring, you may also bring them to the picnic. Delicious and eye-catching, these tortilla roll ups surely blow the mind of your guests!
It's also worth mentioning that these million dollar roll ups are defined by the flavorful creamy dip. It's a delicious mix of 3 ingredients, including cream cheese, mayonnaise and shredded cheddar cheese. If you really love this dip, just use it for other types of roll ups, dill pickle tortilla roll ups, for instance.
Million dollar tortilla roll ups are also "worth-tasting" food of appetizer addicts and roll up lovers. They do not only satisfy their craving but also make daily meals full of joy. Xmas is coming! Why don't you let these rolls get you into the festive spirit? They promise to be "irresistible" appetizers during the holiday! Can't wait giving them a try? Here we go!
Million Dollar Tortilla Roll Ups
Course: Main
Cuisine: American
Difficulty: Easy
Ingredients
4 (6 inch) large flour tortillas

8 oz cream cheese, whipped

1 cup of mayonnaise

2 cups cheddar cheese, shredded

3 oz package real bacon bits (or 1/2 cup cooked bacon), crumbled

1/2 cup slivered almonds

5 green onions chopped
Directions
In large bowl, gather cream cheese, mayo, cheddar cheese, bacon, almonds and onions. Stir until well combined.
Lay a tortilla out on a plate; spread the mixture evenly all the way to the edges (about 2 to 3 tbsp).
Roll up tortilla tightly and place on a plate. Repeat until no mixture remains.
Pop into the fridge to chill for 2 hour.
Slice each rolled tortillas off the ends and set aside.
Garnish with remaining sliced green onions.
To keep the tortilla nice and flexible, keep them at room temperature before rolling
You can you smaller tortillas but need to adjust the amount of bacon and cheese mixture added onto them.
If time is an issue, you may skip the refrigeration before slicing or refrigerate for less time. However, refrigeration is recommended to enjoy a better taste.