As having craving for Boston cream pie, I also fall for this Boston Cream Cheesecake. It's layers of vanilla cake mix (as base), cream cheese, egg, sour cream and vanilla cheesecake, vanilla pudding, and ganache (as topping). Coming out sweet and tangy, and pretty cute, this cheesecake gets me hooked right from the moment I taste it. Yummy!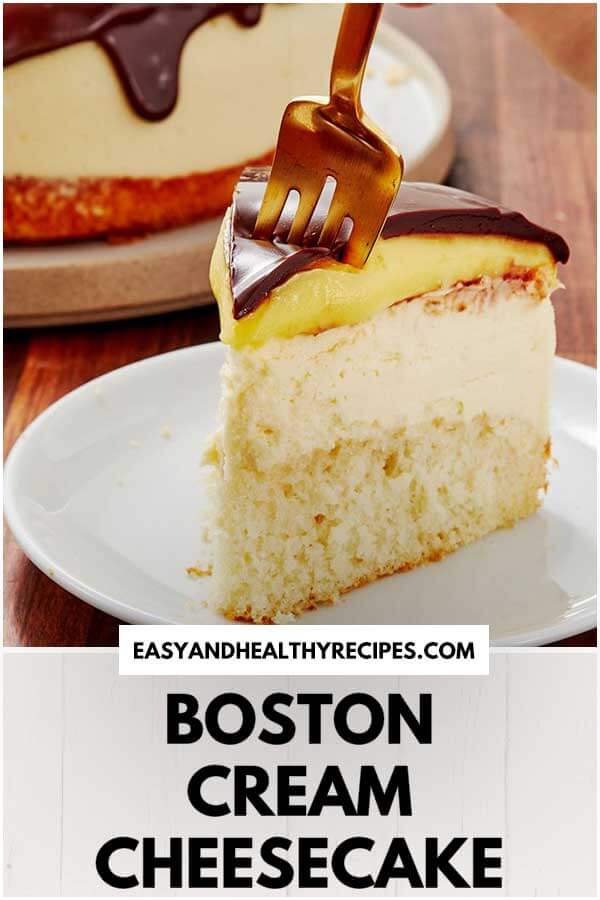 Boston Cream Cheesecake
Course: Dessert
Cuisine: American
Difficulty: Medium
Dessert time is much waiting for with this Boston cream cheesecake. Its recipe is here, just give it a try if you get interested. Enjoy!
Ingredients
FOR CAKE LAYER

1 box vanilla cake mix, plus ingredients called for on box

FOR CHEESECAKE LAYER

3 (8-oz.) blocks cream cheese, softened

1 c. granulated sugar

3 large eggs

1/4 c. sour cream

2 tsp. pure vanilla extract

FOR PUDDING LAYER

1 box instant vanilla pudding

1 1/2 c. whole milk

FOR GANACHE

2 c. chocolate chips

1 c. heavy cream
Directions
Preheat oven to 350°F and spray a 9" springform pan with cooking spray.
Prepare cake mix according to package instructions. Pour about half of the batter into prepared pan. Bake until an inserted toothpick inserted at the middle comes out clean, 23 to 25 minutes. Let cake cool for 10 minutes.
To make cheesecake mixture: In a large bowl using a hand mixer, beat cream cheese and sugar until combined. Add eggs and beat until combined, then stir in sour cream and vanilla.
Pour cream cheese batter onto cooled cake and bake until cheesecake is slightly jiggly in the center, 1 hour to 1 hour 10 minutes. Turn off oven heat, prop open oven door, and let cheesecake cool in oven, 1 hour. Remove foil and place in refrigerator until completely chilled, at least 4 hours and up to overnight.
If not using a water bath: Remove pan from oven and run a knife around the inside of pan to release cheesecake. Let cool 1 hour on a wire rack, then refrigerate until totally chilled, at least 4 hours and up to overnight.
To make pudding: In a medium bowl, combine pudding mix and milk. Whisk until thickened, about 3 minutes. Place in refrigerator until ready to use.
To make ganache: Place chocolate chips in a medium, heatproof bowl and set aside. Heat heavy cream in a small saucepan over medium heat. Once bubbles begin to break surface around edges of the pan, turn off heat.
Pour cream over chocolate and let sit 5 minutes before whisking until smooth.
Spread pudding on top of cheesecake in an even layer. Top with ganache. Place in the refrigerator to set, 30 minutes to an hour. Serve.
Recipe Video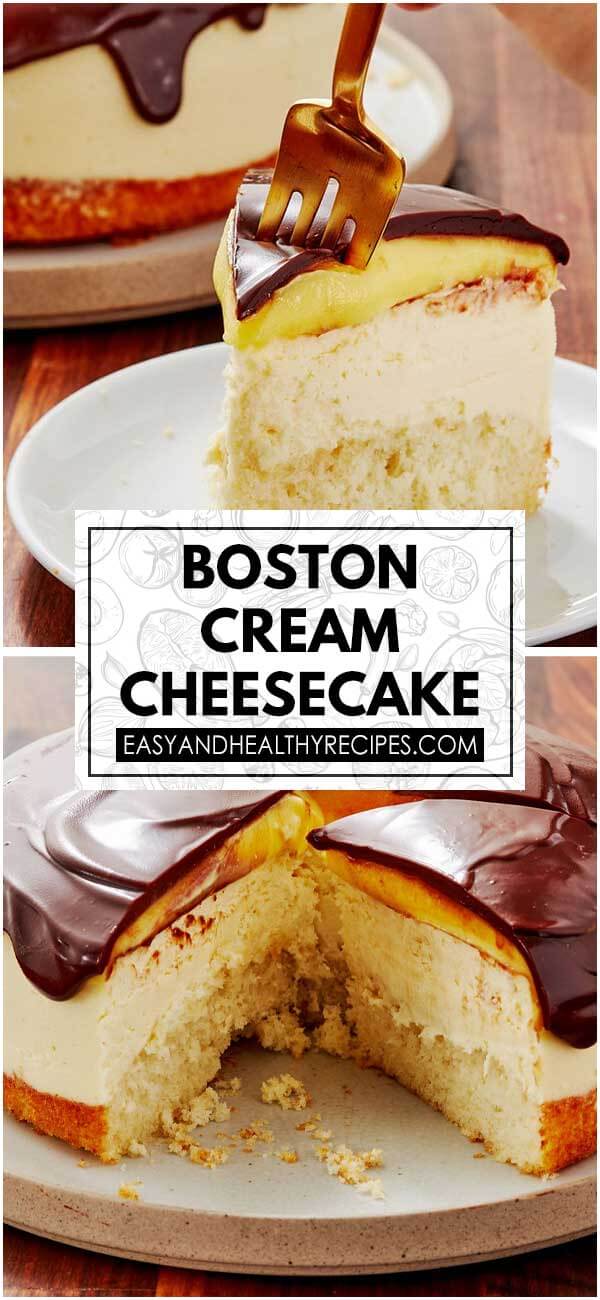 Source: https://www.delish.com/cooking/recipe-ideas/recipes/a55967/boston-cream-cheesecake-recipe/