Brownie Bottom Cheesecake
There is so much going on this Brownie Bottom Cheesecake. It's brownie batter (baked and let cool completely), covered with cheesecake mixture of cream cheese, sugar, eggs, sour cream, vanilla, chocolate chips, and flour, baked until cheesecake only slightly jiggles, finally refrigerated until firm. To make your cheesecake more appealing, you can top it with drizzles of melted chocolate and sprinkles of chocolate shavings. My kids and I just go crazy for it.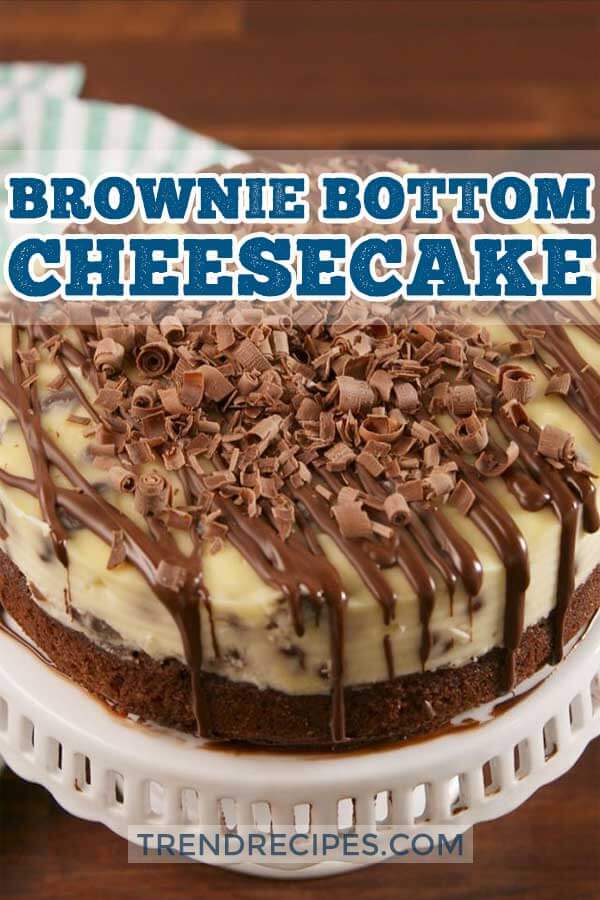 Brownie Bottom Cheesecake
Course: Dessert
Cuisine: American
Difficulty: Medium
If you are finding a good cheesecake recipe, just give this brownie bottom cheesecake a go. Enjoy!
Ingredients
1 box brownie mix, plus ingredients called for on box

2 (8 oz.) blocks cream cheese, softened

1 c. semisweet chocolate chips

1 tbsp. all-purpose flour

1/2 c. sugar

2 large eggs

2 tbsp. sour cream

1 tsp. pure vanilla extract

Melted chocolate, for drizzling

Chocolate shavings, for garnish (optional)
Directions
Preheat oven to 325ºF and spray an 8″ or 9″ springform pan with cooking spray.
Prepare brownie batter according to package instructions and pour into pan. Bake until brownie is set and an inserted toothpick comes out clean, about 45 minutes. Let cool.
In a large bowl using a hand mixer, beat cream cheese and sugar until light and fluffy. Working by one, add eggs and mix well between each addition. Add sour cream and vanilla and beat until evenly combined.
Add chocolate chips and flour to a small bowl, toss to combine and fold into cheesecake mixture.
Pour cheesecake mixture over brownie crust. Wrap bottom of pan in aluminum foil and place in a deep roasting pan.
Transfer to oven, then pour in enough boiling water to come up halfway in pan. Bake until center of cheesecake only slightly jiggles, about 45 minutes.
Turn off heat, prop open oven door, and let cheesecake cool in oven, 1 hour, then remove aluminum foil and keep cheesecake in refrigerator until firm, at least 5 hours and up to overnight.
Drizzle with melted chocolate and garnish with chocolate shavings. Slice and serve.
Recipe Video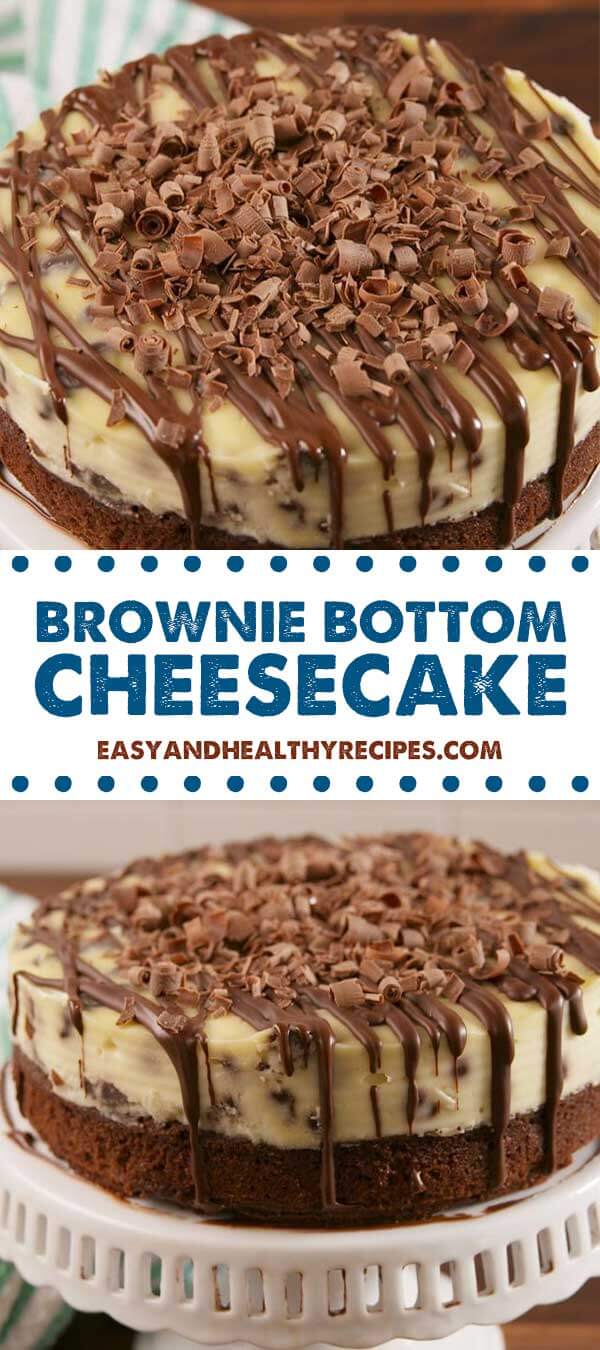 Source: https://www.delish.com/cooking/recipe-ideas/recipes/a58147/brownie-bottom-cheesecake-recipe/