Pineapple Upside-Down Cheesecake
Cheesecake filling makes everything. Paired with sliced pineapple, it brings the dessert (or snack) to the new level. This Pineapple Upside-Down Cheesecake is then recommended here. It's now of my family's dessert at weekend gatherings and parties. Pineapple's harvest season is already here, making this pineapple cheesecake is a good way to enjoy it. Ready to give it a go?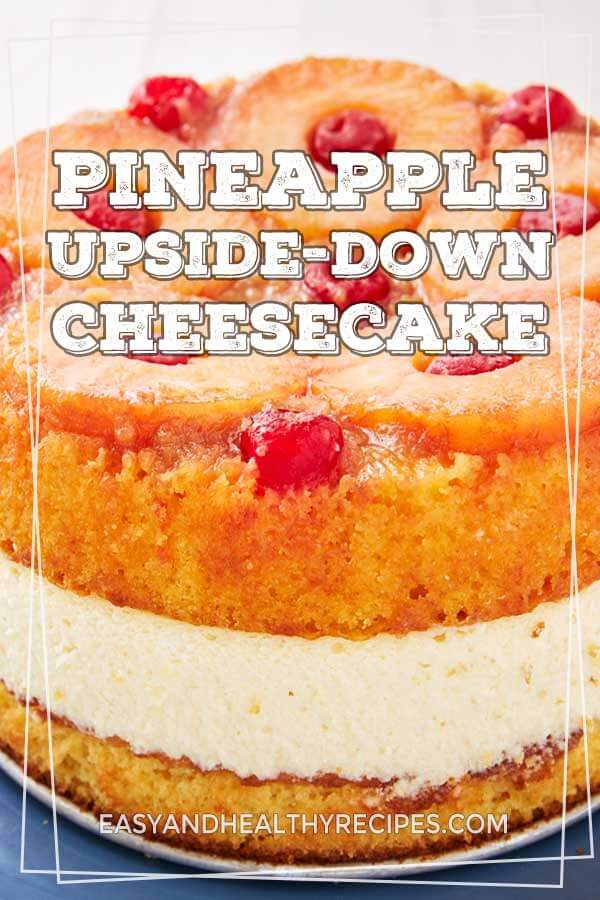 Pineapple Upside-Down Cheesecake
Course: Dessert, Snacks
Cuisine: American
Difficulty: Medium
Summer's dessert time would be incomplete without this pineapple upside-down cheesecake. Its recipe is here, just make a good one of your own!
Ingredients
FOR TOPPING

1 (20-oz.) can pineapple rings in juice

Stemless maraschino cherries

4 tbsp. butter

1/2 c. packed brown sugar

Cooking spray

FOR CAKE

1 box yellow cake mix

1 c. pineapple juice

3 large eggs

1/3 c. vegetable oil

FOR CHEESECAKE

3 (8-oz.) blocks cream cheese, softened

3 large eggs

1/4 c. sour cream

1 c. granulated sugar

2 tsp. pure vanilla extract

1/2 tsp. kosher salt
Directions
To make topping
Preheat oven to 350° and spray an 8″ springform pan with cooking spray.
In an 8″ cake pan, melt butter in oven. Add brown sugar to the bottom of cake pan. Spread mixture to edges, then add 5 pineapple rings. Place cherries inside and in between pineapple slices.
To make cake**
Add cake mix, oil, pineapple juice and eggs to a large bowl. Whisk until smooth.
Pour about half the mixture over pineapples in cake pan. Pour remaining half into springform pan. Bake until cakes are starting to turn golden and an inserted toothpick at the middle comes out clean, about 20 minutes. Let cool.
To make cheesecake layer
Beat cream cheese in a large bowl until light and fluffy; using a hand mixer. Add sugar and beat until smooth.
Add eggs, one at a time, beating between each addition. Add sour cream, vanilla, and salt and mix until smooth.
Pour cheesecake layer over cooled baked cake in the springform pan. Wrap bottom of springform pan in foil.
Bake until cheesecake is slightly jiggly in the center, 1 hour to 1 hour 10 minutes.
If not using a water bath: Remove pan from oven and run a knife around the inside of the pan to release the cheesecake. Let cool 1 hour on a wire rack, then refrigerate until totally chilled, at least 4 hours and up to overnight. If using a water bath: Turn off oven heat, prop open oven door, and let cheesecake cool in oven, 1 hour. Transfer to refrigerator and cool completely, 4 hours up to overnight.
To assemble
Transfer cheesecake onto a serving plate. Top with pineapple upside-down cake. Slice and serve.
Recipe Video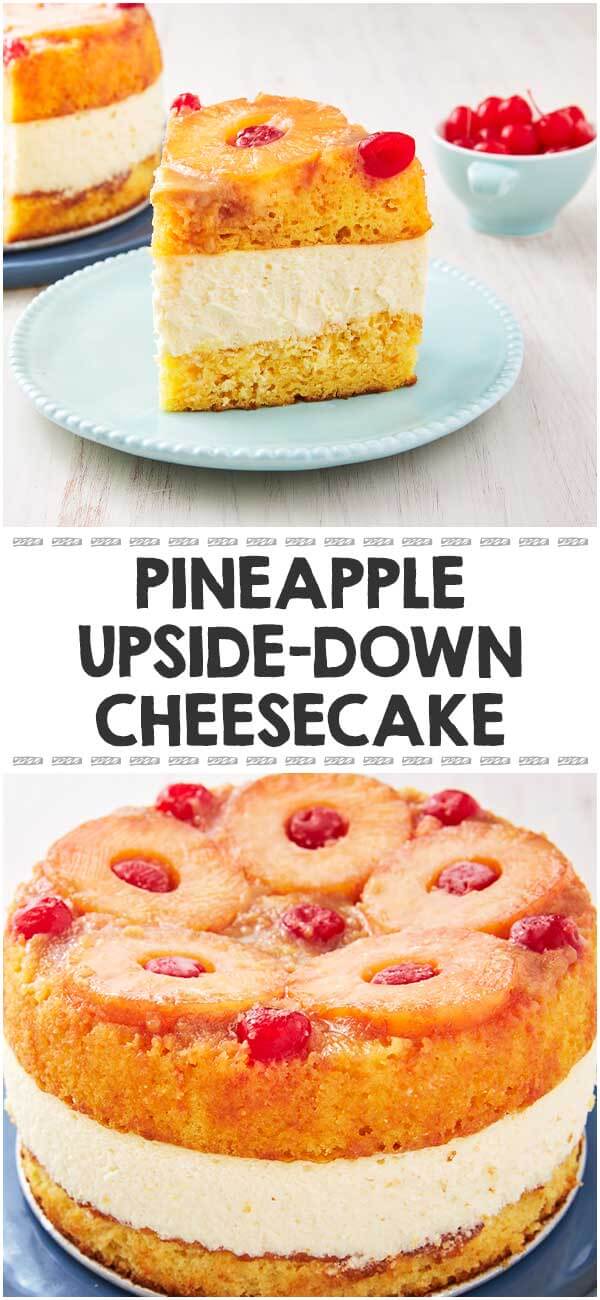 Source: https://www.delish.com/cooking/recipe-ideas/recipes/a56415/pineapple-upside-down-cheesecake-recipe/