This Pumpkin Pie Brownies are a perfect dessert and snack for Fall. They are layers of brownie cake mix of pumpkin puree mix baked until an inserted toothpick at the center comes out clean. This cool brownie cake is then covered with sweet and tangy chocolate ganache. My kids and I are now big fans of them and prefer them for weekend meals and small parties. Yummy!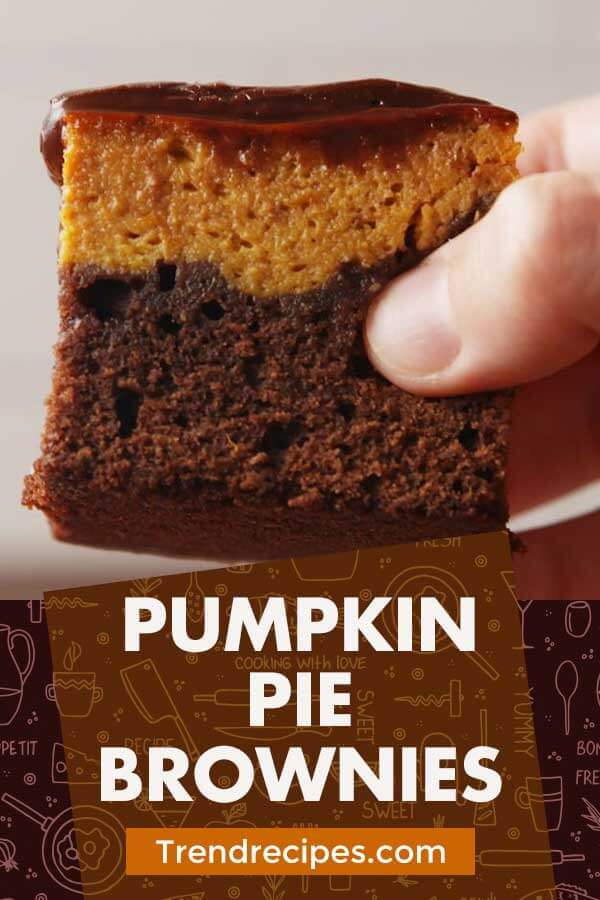 Pumpkin Pie Brownies
Course: Dessert, Snacks
Cuisine: American
Difficulty: Medium
Cooking time
1
hour
20
minutes
Total time
1
hour
30
minutes
If you are finding something good to make with pumpkin, these pumpkin pie brownies are worth trying.
Ingredients
1 box brownie mix, plus ingredients called for on box

1 (15-oz.) can pumpkin puree

1 (14-oz.) can sweetened condensed milk

2 c. semi-sweet chocolate chips

1 tsp. pumpkin pie spice

3/4 c. heavy cream

2 large eggs

kosher salt
Directions
Preheat oven to 350°F and prepare a 9"-x-9" baking pan lined with parchment and spray with cooking spray.
Prepare brownie batter according to package directions. Pour into pan.
To make pumpkin layer: In a large bowl using a hand mixer, beat together pumpkin puree with condensed milk, eggs, pumpkin spice, and a pinch of salt.
Carefully pour over brownie layer and smooth out with a spatula.
Bake until only slightly jiggly, 55-60 minutes. Leave to cool in turned off oven with the door propped open for 30 minutes, place on a baking rack to cool completely.
To make chocolate ganache: Place chocolate chips in a medium, heat-proof bowl. In a small saucepan over medium-low heat, heat heavy cream just until it bubbles, about 5 minutes.
Pour hot cream over chocolate chips. Let sit 5 minutes, then whisk constantly until smooth.
Pour ganache over cooled pumpkin brownies and keep in refrigerator until set, about 30 minutes.
Recipe Video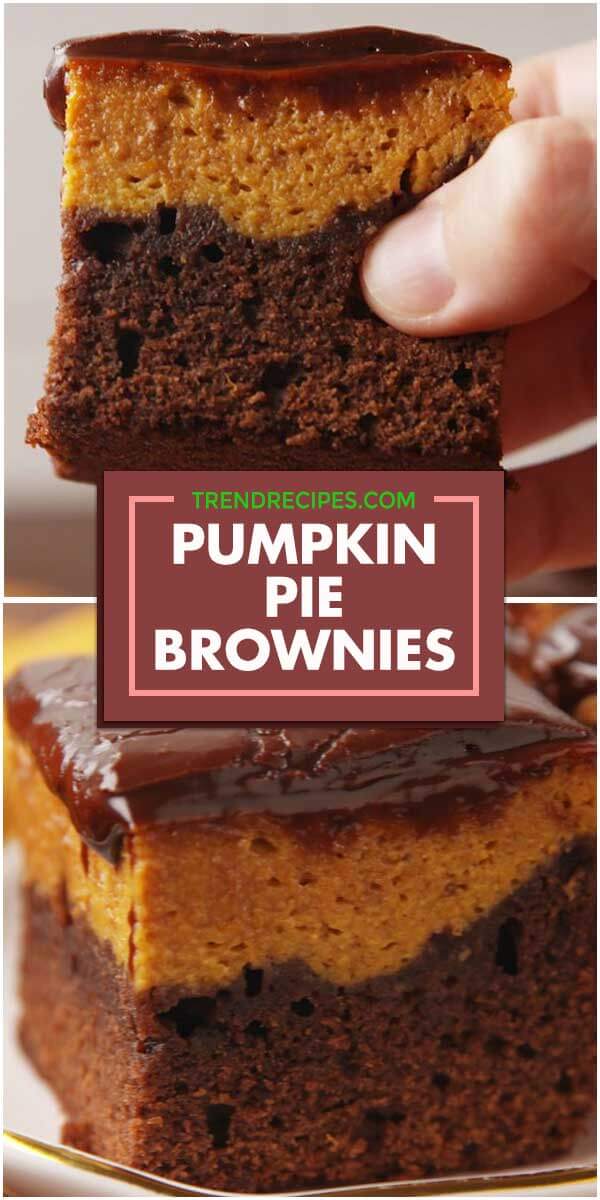 Source: https://www.delish.com/cooking/recipe-ideas/recipes/a55798/pumpkin-pie-brownies-recipe/