One of my guilt pleasures is here. Margarita Poke Cake. A vanilla cake is poked holes all over, filled holes with a flavorful mix of sweetened condensed milk, heavy cream, lime juice and zest, and tequila, and refrigerated for an hour. It's finished off with frosting of butter, powdered sugar, lime juice and tequila. Coming out flavorful and pretty cute, this poke cake is perfect for small parties.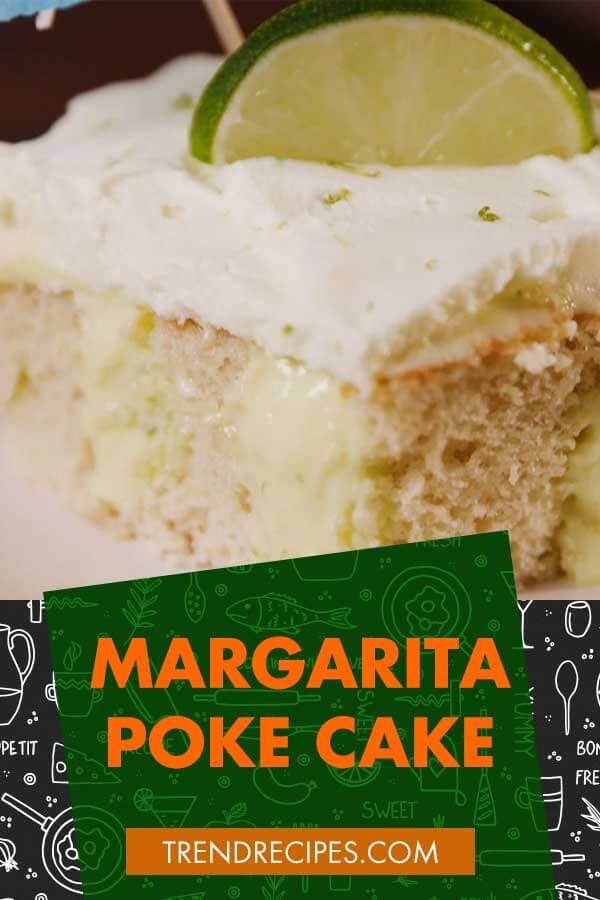 Margarita Poke Cake
Course: Dessert, Snacks
Cuisine: American
Difficulty: Medium
Total time
1
hour
50
minutes
If you want to add more flavors to your poke cake, this Margarita Poke Cake is the way to go. It gets me hooked, and hopefully makes you fall in love with.
Ingredients
1 box vanilla cake mix, plus ingredients called for on box

All-purpose flour, for dusting

FOR THE FILLING

1/3 c. freshly squeezed lime juice

1 tbsp. grated lime zest

1 tbsp. tequila

1 14-oz. can sweetened condensed milk

1/2 c. heavy cream

2 drops of green food coloring (optional)

FOR THE FROSTING

1/4 c. lime juice

1/4 c. tequila

1 c. butter, softened

5 c. powdered sugar

Coarse salt, for garnish

Limes, cut into half moons, for garnish

Lime zest, for garnish

cocktail umbrellas, for garnish
Directions
Preheat oven to 350º F. Spray a 9″-x-13" pan with cooking spray and dust with flour.
Prepare cake mix according to package instructions. Pour batter into prepared pan and bake until an inserted toothpick comes out clean, about 25 minutes. Let cool for 10 minutes.
Poke holes all over cake; Uusing the bottom of a wooden spoon.
To make filling: In a medium bowl, stir together sweetened condensed milk, heavy cream, lime juice and zest, and tequila. Add in food coloring, if using.
Pour filling over poke holes and spread with a spatula. Refrigerate 1 hour.
To make tequila frosting: In a large bowl, combine butter, half of the powdered sugar, lime juice and tequila. Beat until smooth with a hand mixer.
Add rest of the powdered sugar and beat until fluffy.
Spread frosting over cake. Garnish with coarse salt, limes, lime zest and umbrellas. Serve.
Recipe Video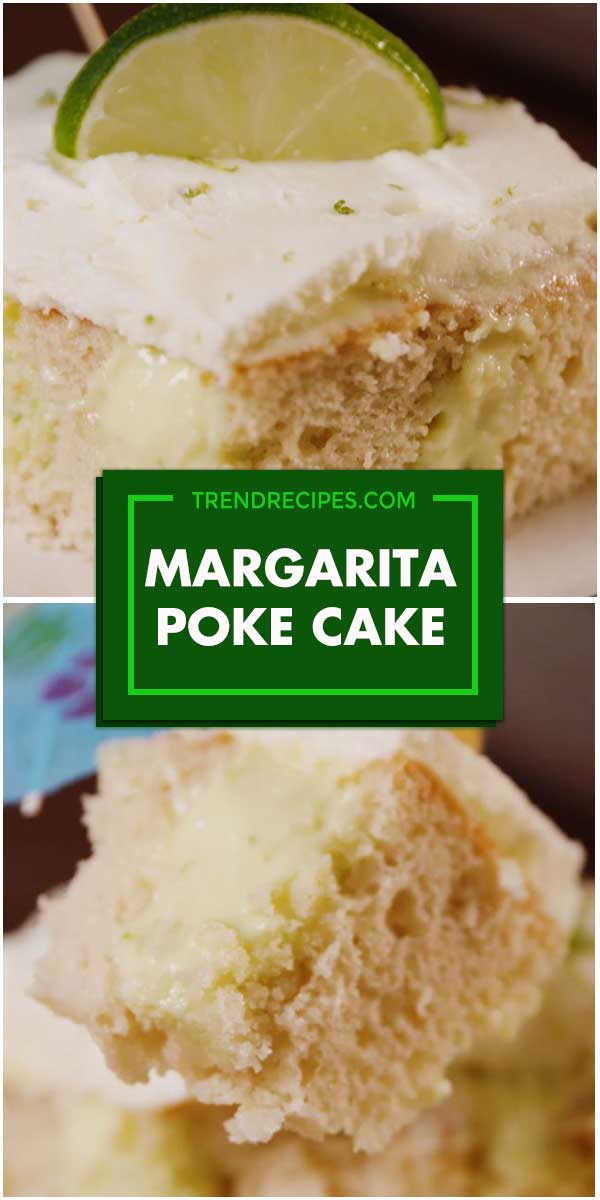 Source: https://www.delish.com/cooking/recipe-ideas/recipes/a54462/margarita-poke-cake-recipe/