Findings something sweet, tangy and pretty cute to pamper your sweet tooth? This Frozen Samoa Pie is the way to go. It features a flavorful and crunchy crust made with Nilla wafers, melted butter and granulated sugar. Filled with cream cheese, vanilla and Cool Whip mixture, and topped with toasted coconut, mini chocolate chips, caramel and melted chocolate, this pie comes out insanely good. My family just get hooked with it.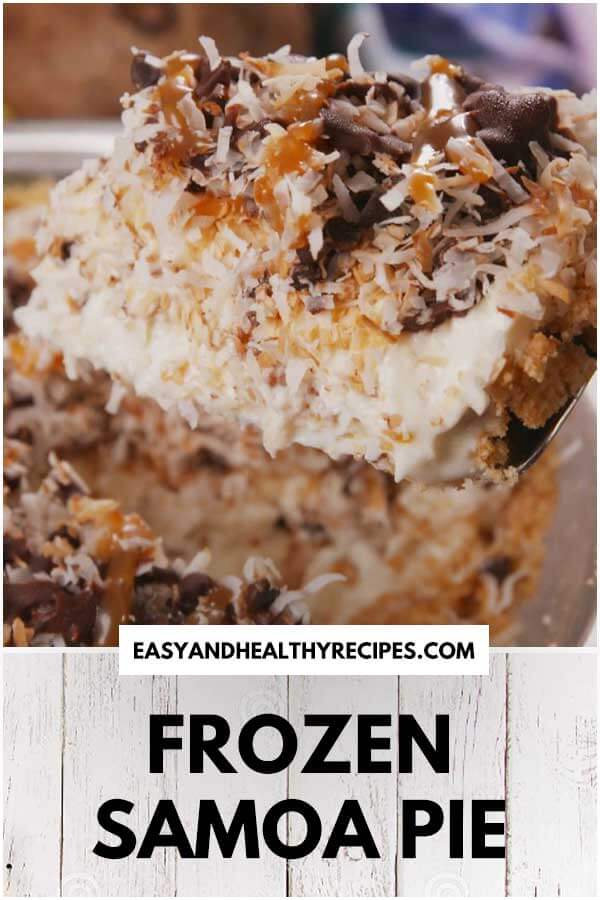 Frozen Samoa Pie
Course: Dessert, Snacks
Cuisine: American
Difficulty: Medium
This frozen samoa pie is a perfect dessert for weekend meals and small parties. When I treat the kids with this pie and family gathering, they all fall for it. Perfect!
Ingredients
FOR THE CRUST

50 Nilla wafers

6 tbsp. melted butter

1/4 c. granulated sugar

FOR THE FILLING

4 c. toasted coconut, divided

1 c. plus 2 tbsp. caramel, melted and divided

1/4 c. mini chocolate chips

1/4 c. semisweet chocolate chips, melted

4 oz. cream cheese, softened

1 (14-oz.) can sweetened condensed milk

1 c. Cool Whip

1 tsp. pure vanilla extract

1/2 tsp. kosher salt
Directions
To make crust: Add Nilla wafers to a food processor, and pulse until they are fine crumbs. Pour crumbs in a bowl, then add in butter and sugar and stir until combined.
Spray a 9″ pie plate and press in crust mixture.
To make filling: Pour cream cheese in a large bowl. Beat with a hand mixer until smooth.
Mix in sweetened condensed milk, vanilla, and salt until fully incorporated. Fold in Cool Whip.
To make middle layer: Combine 2 cups toasted coconut with 1 cup caramel in a medium bowl.
Pour half the cream cheese mixture into pie pan and cover with coconut caramel. Smooth to the edges to make a layer.
Top with remaining cream cheese mixture, then add remaining 2 cups toasted coconut and mini chocolate chips.
Drizzle with remaining 2 tablespoons caramel and melted chocolate. Keep in freezer until firm, about 4 hours. Serve.
Recipe Video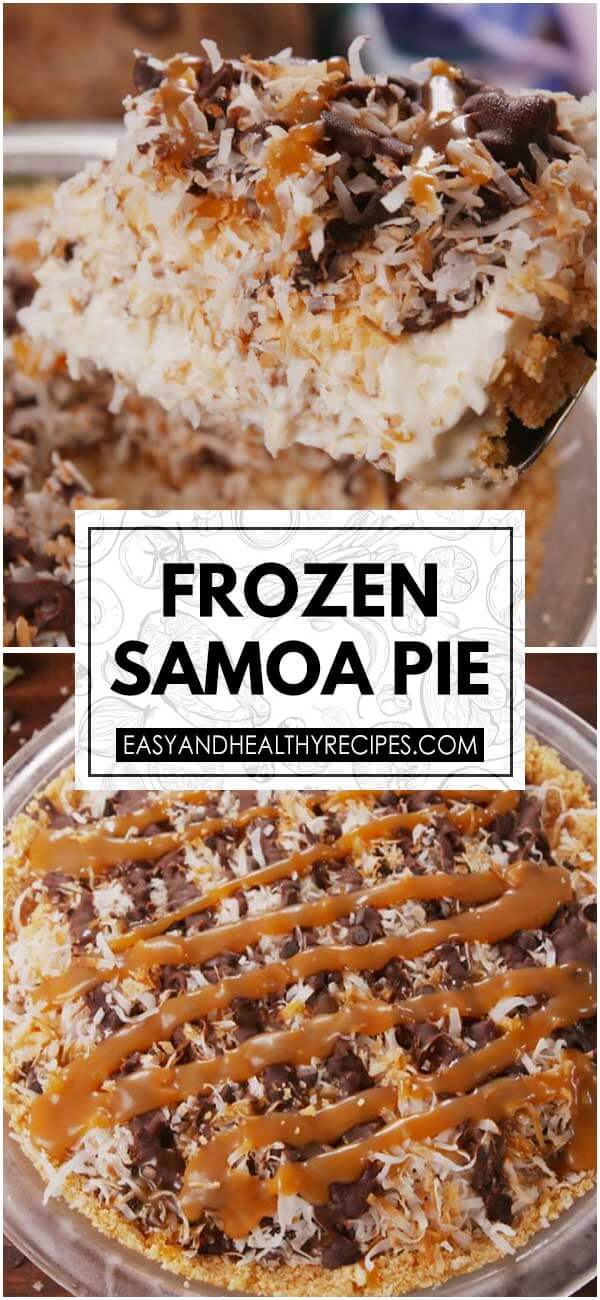 Source: https://www.delish.com/cooking/recipe-ideas/recipes/a54705/frozen-samoa-pie-recipe/