Sweet, tangy and fun to eat, these Turtle Apple Pops surely get all kids hooked. Apple slices are cut a small incision in the bottom and stick in popsicle sticks, dipped in chocolate, sprinkled with pecans and refrigerated to set. These are finished off with drizzles of caramel and sprinkles of sea salt all over, and kept in the refrigerator until firm. And ready to serve. My kids are now big fans of them.
Turtle Apple Pops
Course: Dessert, Snacks
Cuisine: American
Difficulty: Easy
These turtle apple pops are super easy to make and great for any occasion. Weekend is coming, let's make them for your kids!
Ingredients
2 apples, sliced into 1/2″ slices

2/3 c. Caramel

1/2 c. toasted pecans

1 1/2 c. chocolate chips

1 tbsp. coconut oil

Flaky sea salt

4 popsicle sticks
Directions
Prepare a medium baking sheet lined with parchment paper.
Make a small incision in the bottom of the apple slices and stick in popsicle sticks.
Dip apple slices in chocolate and transfer to prepared baking sheet. Sprinkle with pecans and chill in the refrigerator to harden for 10 minutes.
Drizzle with caramel and sprinkle with sea salt.
Return to refrigerator to harden again, about 5 minutes. Serve.
Recipe Video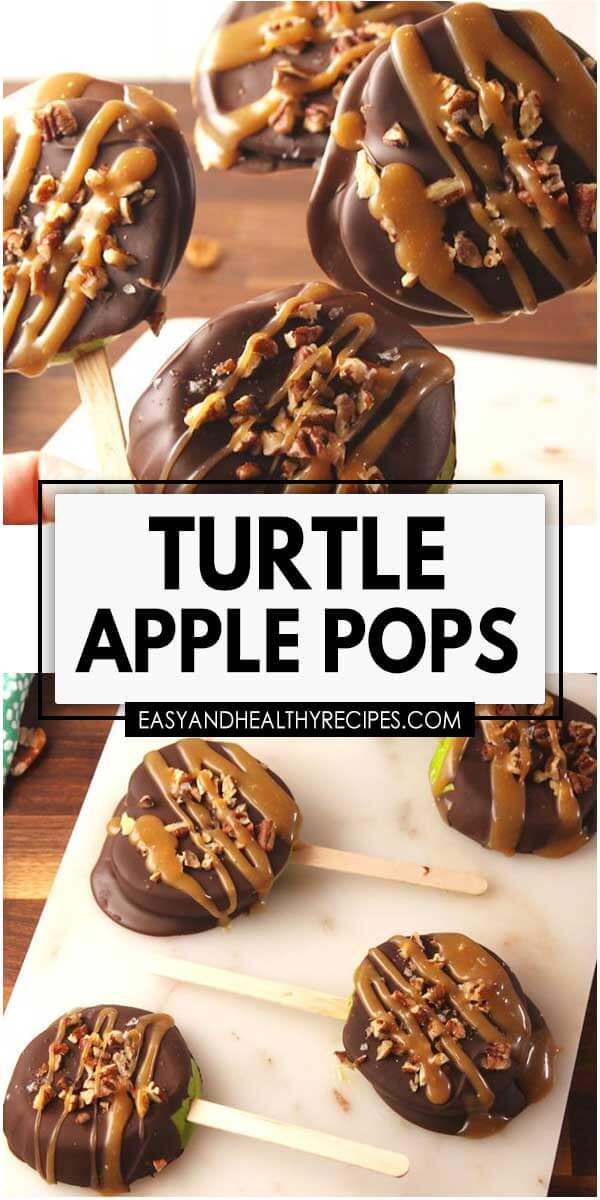 Source: https://www.delish.com/cooking/recipes/a55663/turtle-apple-pops-recipe/