I have craving for flavorful energy bites. These Reese's Footballs are one of them. They're made with butter, peanut butter, vanilla, all-purpose flour, chopped Reese's pieces, melted chocolate chips, melted white chocolate, coconut oil, brown sugar, white sugar, and kosher salt. If you are finding something good to feed a hungry crowd at gatherings, just give these balls a go. Enjoy!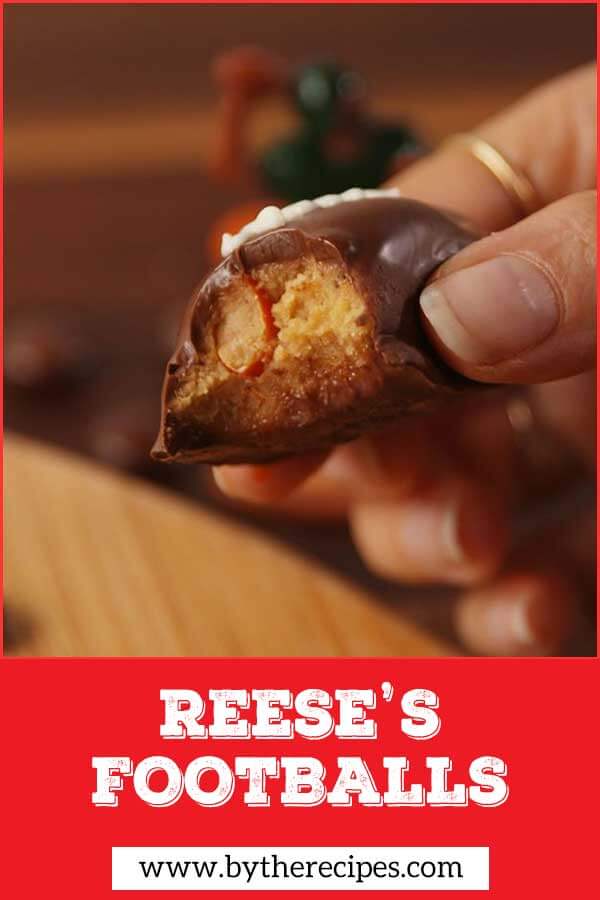 Reese's Footballs
Course: Snacks, Dessert
Cuisine: American
Difficulty: Easy
Total time
1
hour
20
minutes
If you love eating something good made with Reese's pieces, these Reese's Footballs are the way to go.
Ingredients
1/3 c. Butter, softened to room temperature

3/4 c. all-purpose flour

2/3 c. chopped Reese's pieces

1 1/2 c. chocolate chips, melted

2 tsp. coconut oil

1/2 c. white chocolate, melted

1/2 tsp. vanilla

1 c. peanut butter

1/2 c. brown sugar

1/2 c. white sugar

1 tsp. kosher salt
Directions
Add butter, peanut butter, and sugars to a large bowl, cream until smooth and fluffy.
Add salt, vanilla, and flour and beat until just combined. Fold in chopped Reese's pieces.
Scoop a heaping tablespoon of dough and form into shape of a football.
Transfer onto a small parchment lined baking sheet. Repeat until no dough remains and place in freezer to harden for 20 minutes.
Add melted chocolate and coconut oil to a small bowl, stir to combine. Dunk footballs into chocolate and return to baking sheet. Place back in the freezer to harden, 5 more minutes.
Place melted white chocolate in a piping bag or ziplock bag. Pipe laces on the footballs and keep in refrigerator until serving.
Recipe Video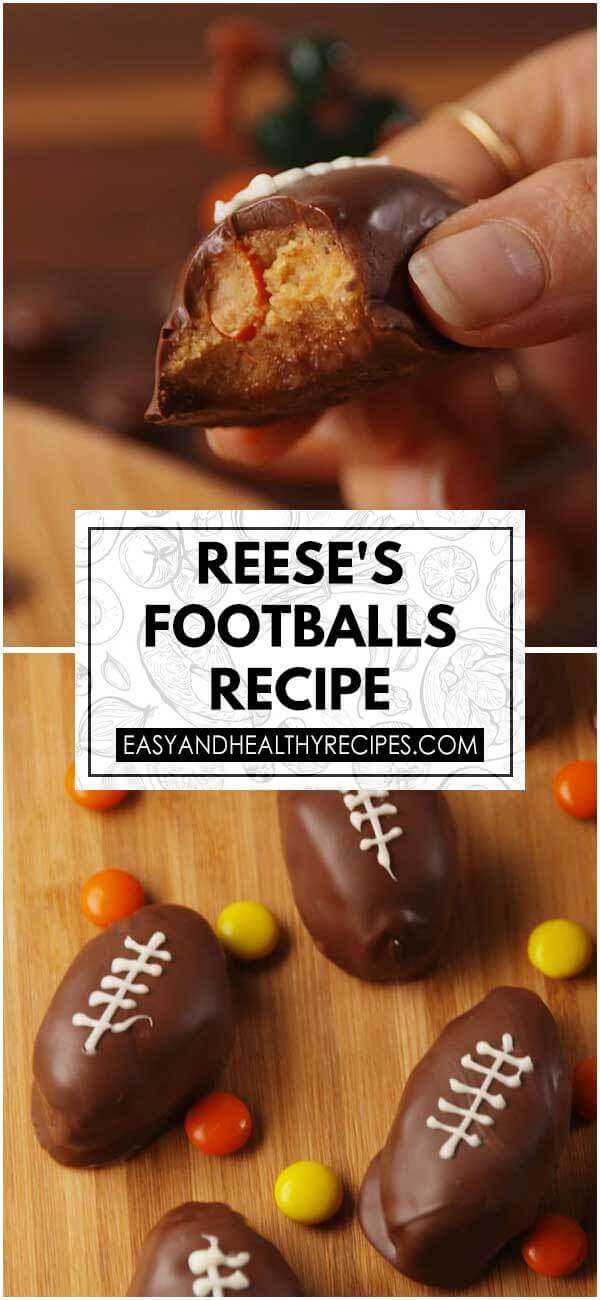 Source: https://www.delish.com/cooking/recipe-ideas/recipes/a56109/reeses-footballs-recipe/