Chicken Pot Pie Noodle Bake
Chicken Pot Pie Noodle Bake is here. It's one of my favorite dishes to make at any time for any meal. It's made with egg noodles, heavy cream, shredded chicken, frozen corn, frozen peas, diced carrots, diced celery stalks, chopped onion, panko breadcrumbs, grated Parmesan, and chicken broth. Coming out creamy, and tangy, this chicken noodle drives us crazy when it's served. Ready to give it a try?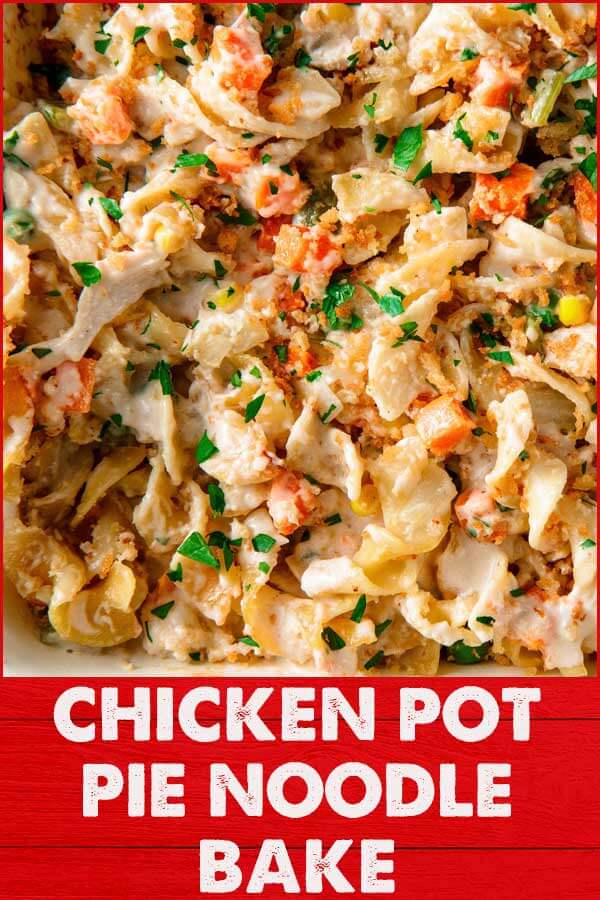 Chicken Pot Pie Noodle Bake
Course: Dinner
Cuisine: American
Difficulty: Medium
Total time
1
hour
10
minutes
It's getting warmer outside. Why don't you make this chicken pot pie noodle bake for dinner? Enjoy!
Ingredients
2 c. cooked shredded chicken

12 oz. egg noodles

2 tbsp. all-purpose flour

2 c. heavy cream

1/2 c. frozen corn

1/2 c. frozen peas

1/2 c. panko breadcrumbs

2 tbsp. freshly grated Parmesan

2 c. low-sodium chicken broth

2 tbsp. butter

2 carrots, peeled and diced

2 celery stalks, diced

1 large onion, chopped

2 garlic cloves, minced

Kosher salt

Freshly ground black pepper

1 tbsp. extra-virgin olive oil

Freshly chopped parsley, for garnish
Directions
Preheat oven to 375°F.
In a large pot of boiling salted water, cook noodles for 5 minutes. Drain immediately and set aside.
Melt butter in a large skillet over medium heat. Add carrots, celery, onion, and garlic and season with salt and pepper. Cook until tender, 3 minutes, then stir in flour and cook for another minute.
Stir in chicken broth and heavy cream and bring to a boil, then reduce heat and simmer, stirring occasionally, until thickened, about 3 minutes.
Remove from heat and stir in noodles, chicken, corn, and peas, pour mixure into a 9"-x-13" baking dish.
Add Panko, Parmesan, and oil and season to a bowl. Season with salt and pepper, and mix to combine. Sprinkle on top.
Bake until golden, 25 to 28 minutes. Sprinkle with parsley. Serve immediately.
Recipe Video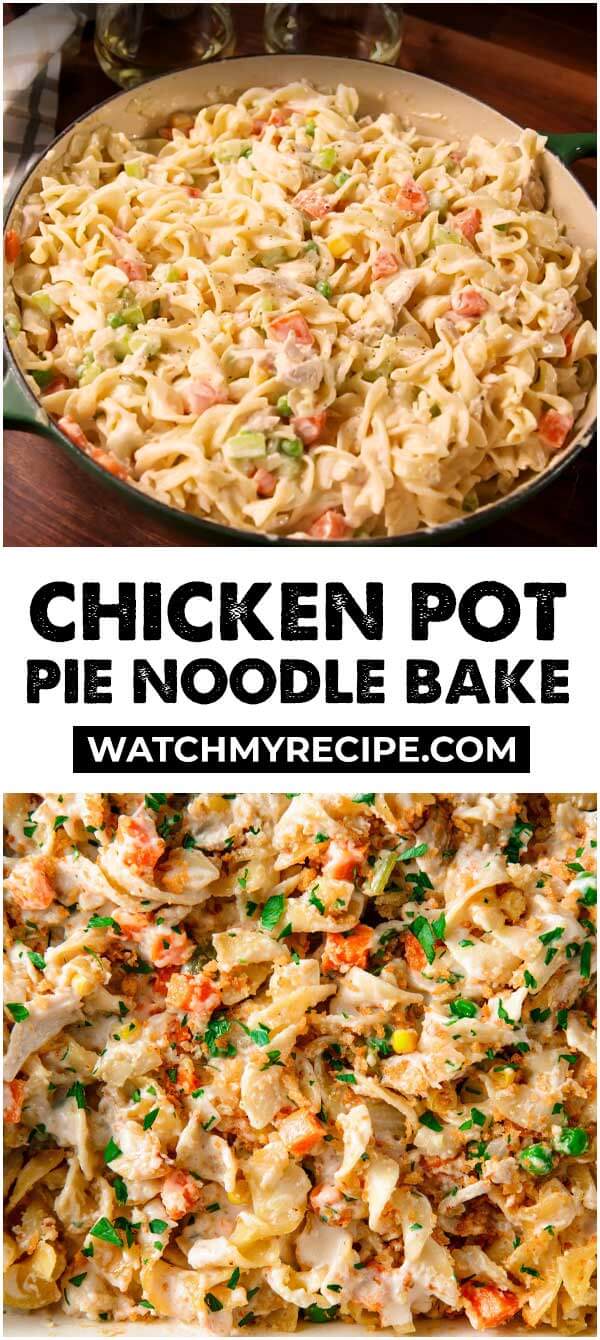 Source: https://www.delish.com/cooking/recipe-ideas/recipes/a58140/chicken-pot-pie-chicken-noodles-recipe/