These loaded boneless wings are a perfect chicken recipe to dazzle your guests at party. The reason is simple. They are loaded with flavors, textures, and quite fun to eat. Dipped in a tasty sauce and served alongside a flavorful vegetable salad, these are enough for a good meal. My family just get hooked with them!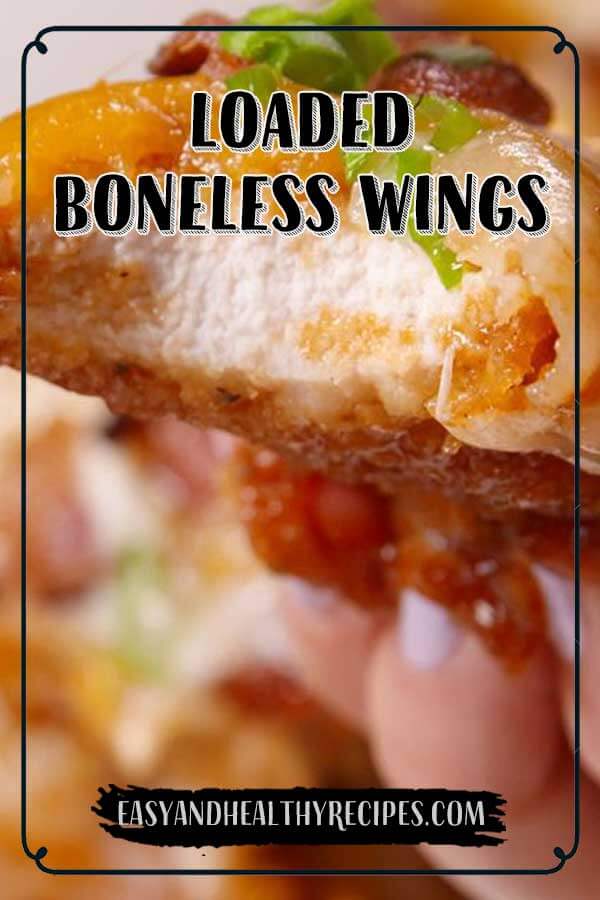 Loaded Boneless Wings
Course: Main, Appetizers, Dinner
Cuisine: American
Difficulty: Medium
These loaded boneless wings are incredibly good. The point here is they do not require much effort. I've served them for dinner twice this month and my family all fell for them.
Ingredients
2 lb. chicken tenders

2 c. panko bread crumbs

1 c. all-purpose flour

3 large eggs, beaten

1 c. Shredded Monterey Jack

1 c. shredded Cheddar

4 slices bacon, cooked and crumbled

1 c. barbecue sauce

1/3 c. brown sugar

Juice of 1 lime

1 tsp. garlic powder

kosher salt

Freshly ground black pepper

Green onions, for serving
Directions
Preheat oven to 425°F. Prepare a baking sheet lined with parchment paper.
Add flour and chicken to a large, resealable Ziploc bag. Shake until fully coated.
Prepare 2 separate bowls. One for panko bread crumbs and one for whisked eggs.
Dredge chicken in egg mixture, then dip in panko until fully coated. Transfer to baking sheet and season generously with salt and pepper. Bake until golden and crispy, 23 to 25 minutes.
Add barbecue sauce, brown sugar, lime juice, and garlic powder to a small saucepan. Cook over low heat until warm; stirring to combine.
Bring back to oven and broil until cheese is melted, 1 to 2 minutes.
Serve immediately!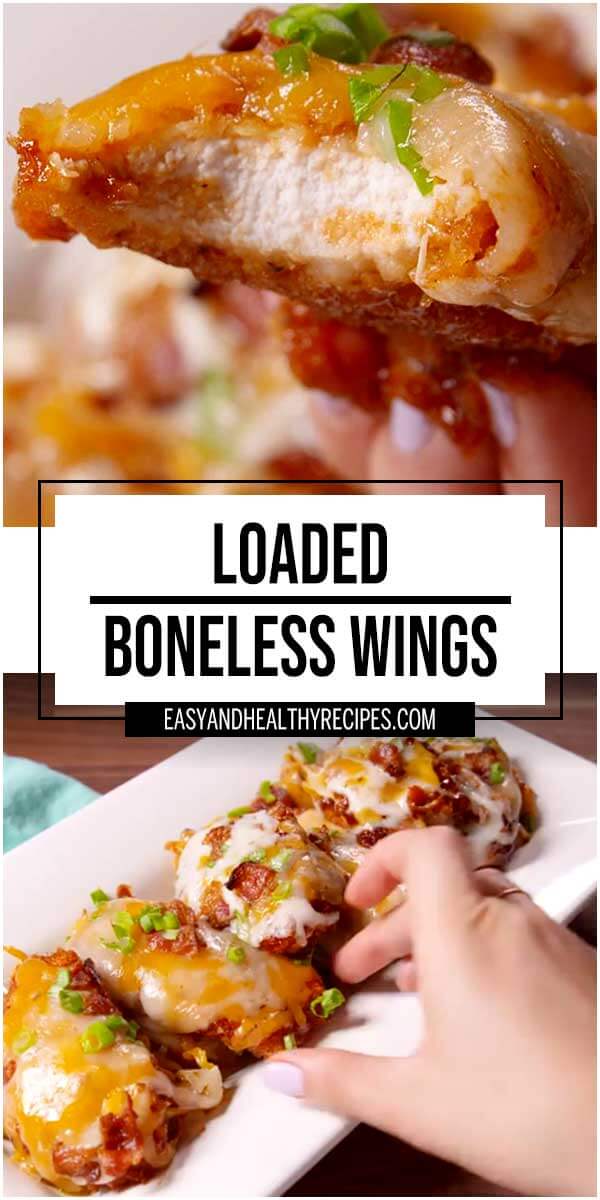 Source: https://www.delish.com/cooking/recipe-ideas/recipes/a48929/loaded-wings-recipe/