Cheesy Shrimp Garlic Bread
Delicious and flavor-packed, this Cheesy Shrimp Garlic Bread is perfect for easy lunch and dinner. Shrimp is cooked, let cool, chopped into bite-sized pieces, mixed with mayo, lemon juice and zest, mozzarella, and Parmesan, spread on to bread slice, topped with more cheeses, and finally baked in the oven until bread is crispy and cheese is melty. Who can't resist it? I know that I can't.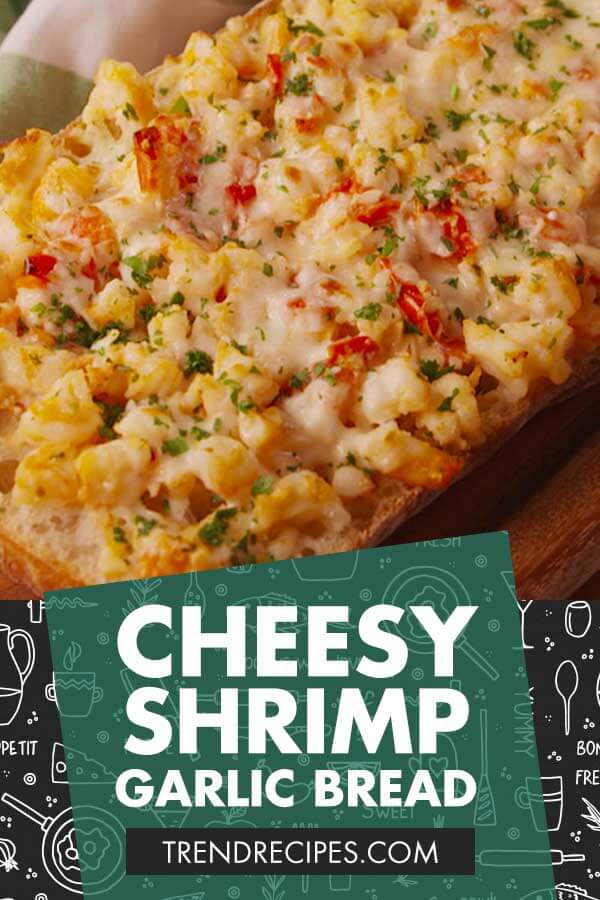 Cheesy Shrimp Garlic Bread
Course: Lunch, Dinner
Cuisine: American
Difficulty: Medium
My kids fall for this cheesy garlic shrimp bread from the first time they gave it a try. If you have an appetite, just go for it immediately.
Ingredients
1 1/2 lb. large shrimp, peeled and deveined

2 tbsp. unsalted butter

1 c. shredded mozzarella, divided

1/2 c. freshly grated Parmesan, divided

1 loaf ciabatta, halved lengthwise

kosher salt

Freshly ground black pepper

2 tomatoes, diced

3 cloves garlic, minced

1/4 c. mayonnaise

1 tbsp. fresh lemon juice

1 tsp. fresh lemon zest

Chopped fresh parsley, for garnish
Directions
Preheat oven to 375º F.
Melt butter in a large skillet over medium heat. Add shrimp and season with salt and pepper. Cook until pink and cooked through, for 3 to 4 minutes.
Stir in tomatoes and garlic and cook until fragrant, 1 minute more. Remove from heat, let cool enough to chop into bite-size pieces.
Transfer to a large bowl and mix with mayo, lemon juice and zest, 1/2 cup mozzarella, and 1/4 cup Parmesan. Season with more salt and pepper.
Spread shrimp mixture onto bread and add remaining mozzarella and Parmesan on tp.
Bake until bread is crispy and cheese is bubbly and golden, 18 to 20 minutes.
Garnish with parsley. Slice and serve.
Recipe Video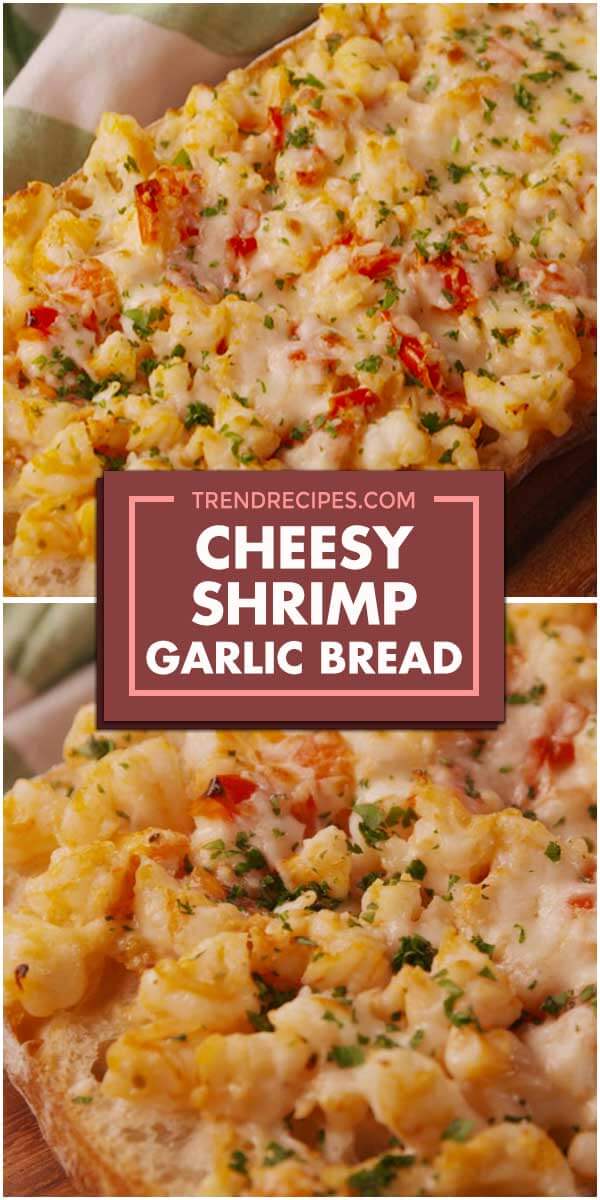 Source: https://www.delish.com/cooking/recipe-ideas/recipes/a54288/cheesy-shrimp-garlic-bread-recipe/