Your taste buds are all in a treat with this Hissy Fit Ring Dip. It's crescent ring filled with a delicious mix of Hot Italian sausage, Velveeta, cream cheese, sour cream, Worcestershire, onion powder, and ground sage, and draped with Muenster slices. It's then brushed with egg wash, sprinkled with chives, and baked until dough is golden and cheese is melty. Who can resist it? II know that I can't.
Hissy Fit Ring Dip
Course: Breakfast, Brunch, Lunch
Cuisine: American
Difficulty: Medium
This hissy fit ring dip is one of my "all-time" loved foods. I love serving it for weekend breakfast, lunch and small parties.
Ingredients
1 lb. Hot Italian sausage, casings removed

8 oz. Velveeta, cubed

1/2 tsp. Ground sage

2 tubes crescent rolls

6 slices Muenster cheese, halved

4 oz. cream cheese, softened

1/3 c. sour cream

1 tsp. Worcestershire sauce

1 tsp. onion powder

1 large egg beaten with 1 tbsp. water (egg wash)

1 tbsp. Chopped chives
Directions
Preheat oven to 375° F and prepare a large baking sheet lined with foil.
Add sausage to a large skillet, cook over medium heat, breaking up with a wooden spoon, until golden and cooked through, about 8 minutes.
Reduce heat to low and stir in Velveeta, cream cheese, sour cream, Worcestershire, onion powder, and ground sage. Stir until everything is melted and well-mixed, about 5 minutes, then remove from heat.
Unroll crescent rolls, separating each triangle. Arrange rolls in a sunburst pattern, with pointed ends of the triangles facing outward.
Place dip mixture onto the bottom of the crescents. Drape with Muenster slices, then fold triangle tips over filling and tuck under itself, forming a ring.
Brush dough with egg wash and sprinkle with chives.
Bake until dough is golden and the cheese is melty, about 18-20 minutes. Serve.
Recipe Video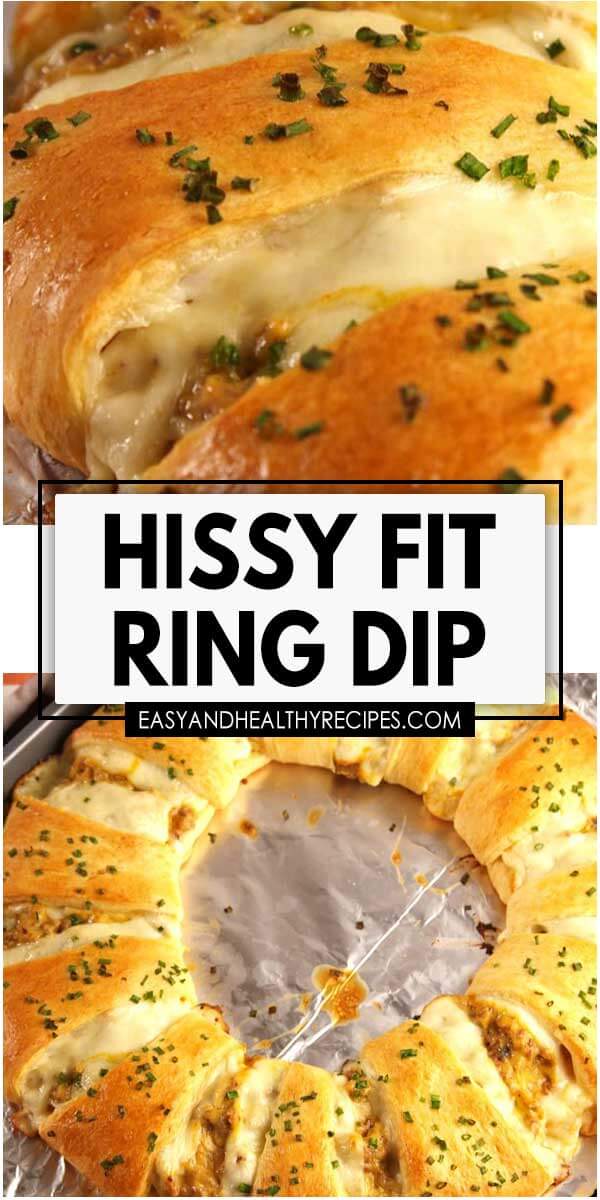 Source: https://www.delish.com/cooking/recipe-ideas/recipes/a55163/hissy-fit-ring-dip-recipe/